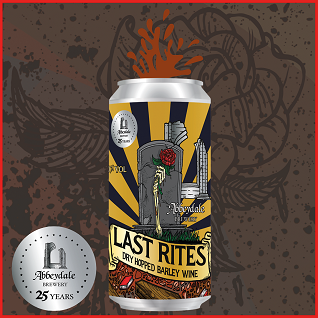 The next in our series of 25th anniversary celebratory beers is back… and it's Last Rites!
One of our most iconic beers and first brewed in 1997, our deliciously boozy (yet still very drinkable) barley wine has truly stood the test of time. Heavily hopped using a similar combination of hops to Moonshine (Willamette, Cascade and Chinook), Last Rites was originally created from the first runnings of our flagship pale ale. It's always been dry hopped too – this batch has Cascade and Mosaic added for an extra level of citrussy oomph!
Weighing in at 11% ABV, Last Rites is one of the trickiest beers in our line-up to brew, particularly during the cold winter months, so as usual we haven't made things easy for ourselves… but we simply couldn't imagine as important a milestone as our silver anniversary without it! Smooth and robust with a huge depth of flavour and a lingering finish, it's one to truly savour and a beer we're very proud of.
Last Rites is available now on our online shop and to trade customers, and for the first time we've added Brewers Clarex to the recipe meaning it's labelled as gluten free (if you'd like to know more about this process, head to this blog post).
So whether it's a nostalgic favourite or a beer that's new to you, please join us in raising a glass to 25 years of Abbeydale Brewery. Cheers!