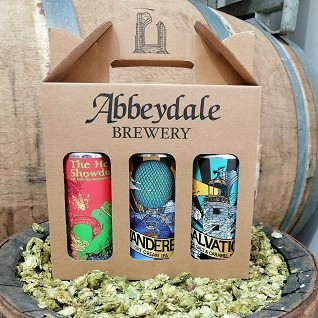 So February 14th is looming and whether you like to celebrate Valentine's Day or not we reckon it's a great excuse to treat the one you love!
We all need to stay at home at the moment, but we're here to help create a romantic night in… with three delicious beers! And so we've put together a new limited edition gift pack inspired by a three course meal.
STARTER: The Hero's Showdown – 4.5%. A Watermelon & Hibiscus pale ale, delicate and refreshing with a gently aromatic fruity character and just a hint of tartness alongside. Wonderfully thirst quenching and a great beginning to an evening, this would pair well with a light first course such as a whipped goat's cheese or a seafood salad – and who doesn't like melon as a starter?!
MAIN COURSE: Wanderer Oat Cream IPA – 6.2%. Bold, juicy, creamy and laden with Mosaic hops, this IPA is robust enough to stand up to all manner of main courses with just enough sweetness to cut through a rich meal. It'd be the perfect accompaniment to a classic steak and chips, or would work well as a contrast to spicy dishes from curry to tacos.
DESSERT: Salvation Sea Salt & Caramel Stout – 4.5%. Flavourful without being too heavy, this beer is inspired by an ever-popular combination – it would make a lovely pud simply enjoyed on its own but could also work beautifully alongside a tasty dessert. Whether you consider the beer a smooth operator to enjoy with a sharp and zesty passionfruit panna cotta, or a sumptuous partner to a decadent chocolate fondant.
Head to our online shop to pick up one of these – designed to work well whether shared with a loved one, or supped by yourself – you deserve it!
Cheers!
Team Abbeydale