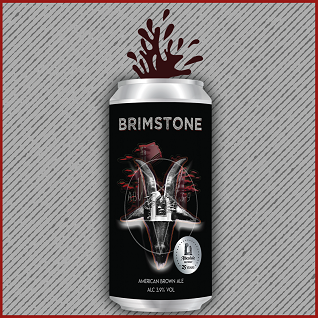 We reach an important milestone this year, as the brewery celebrates its 25th anniversary! Just one of the ways in which we'll be marking the occasion is via the release of commemorative beers, all marked with a special emblem. The first of those is a returning beer which formed part of our core range from 2006 to 2016… and it's available now! Welcome back Brimstone!
Brimstone is an American Brown Ale, well hopped with Amarillo. As we mentioned in our earlier blog post, Brimstone is a particular favourite of our Sales Director Dan. And in his words… "For me the reason why Brimstone was so special was because it looked like a traditional brown bitter but drank like a pale ale. Due to our particular disliking of crystal malt, the beer was coloured with chocolate malt, flavouring beautifully with chocolate and toffee, which when coupled with Amarillo hops (the Sabro of its time!) balanced it with a dreamy, marmalade like flavour. At 3.9% it was perfectly sessionable. You couldn't compare any beer like it that was on the market at the time. It was a "bridge beer" for many that wanted to explore more than the normal cask bitters that were more readily available and truly experience what American hops tasted like. It was revolutionary in my opinion."
Brimstone was retired back in 2016 due to Amarillo being in too short supply to keep it as part of our core range, and Double Brimstone was the first beer we released in honour of our 20th anniversary that same year (more on that here, for those wanting to take a little trip down memory lane!), so the timing of this release seems rather fitting! And for the first time ever, it's available in canned format.
We first heard about the existence of the Amarillo hop through an odd coincidence. Brewery co-owner Sue's first cousin, Iain Hill (her mother's brother's son), is some 15 years her junior and has lived his whole life in Canada. He and Sue have only met occasionally over the years when he visited England with the family to visit his grandmother. But he became a brewer! Iain now runs Strange Fellows Brewing in Vancouver, along with business partner Aaron Jonckheere. Iain visited England as part of a work trip in the early part of the millennium, and made a quick visit to Sheffield to see our brewery.
As part of the many conversations about beer, Iain mentioned a new hop he was using from Oregon, called Amarillo, and recommended it to Pat. Pat immediately contacted our hop supplier Charles Faram and was able to secure some. And from this, Brimstone was born! We believe it was one of the first UK beers that Amarillo was used in (just as a couple of years later we'd be amongst the first to make use of Nelson Sauvin in Deception).
Brimstone to this day remains the only beer for which we have won a national tender and was successfully rolled out to all Greene King pubs at a national level in October 2011 – something which was partly facilitated due to its success as a house beer at the Museum, Orchard Square in Sheffield City Centre. It also featured as a house beer at the Dog & Partridge on Trippet Lane and the nationally award-winning Kelham Island Tavern and has had a few different "faces" as the house beer of pubs including the (now sadly closed) Mill of the Black Monk – as per the image to the right – and the Old Bowling Green in Winster.
As well as being perfectly happy flying solo as a sessionable and tasty beer, Brimstone cooks very well too, serving as a marvellous ingredient addition to stews, pies and the like. As a food pairing, we recommend a contrasting spicy dish like a rich and warming lamb tagine, or firecracker chicken wings with big, bold flavours. Alternatively, work with the structure of the ale and pair with a chocolate orange mousse or Millionaire's Shortbread for a delicious dessert.
Brimstone is available direct on our online shop as well as to trade customers, for a limited time only!