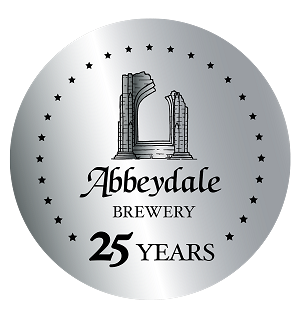 After a very unpredictable 2020 for the whole population – including our beloved beer industry, and us here at Abbeydale Brewery (more on that in this blog post), we're finding things to look forward to in 2021. One thing we can be sure of is that we will be celebrating our 25th anniversary! We feel very fortunate to be here and certainly feel it's a milestone well worth celebrating.
Throughout the year we're planning on releasing a series of anniversary beers, which will be marked with our special commemorative logo (shown on the right!). We don't want to give toooo much away just yet, but suffice to say we've got some amazing surprises up our sleeves with some completely new brews and some twists on popular favourites on the way.
We're kicking off the year's special releases with two returning beers… the first of which has been brewed this week! Our Amarillo hopped American Brown Ale, Brimstone, was a much loved feature of our core range from 2006 until 2016 before we had to take the difficult decision to retire it, but it's back as a limited release in early February… including in can for the very first time! It's a favourite beer of our Sales Director, Dan Baxter – who himself has worked for the company since 2007. Starting out at one-time Abbeydale pub The Moon, he began working at the brewery as a brewer and salesman in 2008 (following in his grandad's footsteps, who used to work at the old William Stones Cannon Brewery on Rutland Road), and he's never looked back. Dan's very excited to get Brimstone back in his life, and we hope you are too!
Also in February we have the return of Last Rites, our always popular dry hopped barley wine – we can't wait to welcome it back to our line-up.
What would you like to see us get brewing in our 25th anniversary year? Let us know in the comments below!
Cheers,
Team Abbeydale