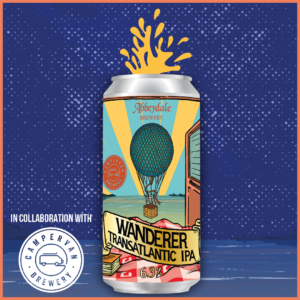 The latest in our Wanderer series is out now! It's an IPA packed with experimental hops from both sides of the Atlantic Ocean, created in collaboration with Leith's Campervan Brewery. This was the return leg of our partnership – some of you may remember Trinity which we brewed up in Scotland last year, a delicious mandarin, black lime and ginger gose! For our second brew together, we decided to go for something completely different, and were aiming for a mix of new and old – reviving a historical base malt, paired with up-and-coming hop varietals from around the globe, for a beer that's bursting with character.
The key ingredient of the grist was heritage grain Plumage Archer barley, combined with caramalt, wheat and oats for a complex malt character to complement the hops we had chosen to use. Plumage Archer is one of our brewer Jim's favourite base malts to use – "it has a wonderful graininess, almost biscuit character… plus it's a lot easier to mash with than some of the other malts on the market!"
UK grown whole cone hops from our suppliers Charles Faram were added to our hop back on the hot side of the brew, along with a sprinkling of pellet hops from Yakima Chief's programme. This is mainly to extract some balanced bitterness as well as some of the heady aromas that we wanted to form the character of this beer.
The UK hops we chose were CF161and CF162. Both of these hops come advertised as having grapefruit and lemon characteristics, and on the rub this citrus was abundant, with a little grassiness (but not in spades, as you may expect from British grown hops). CF161 is a great grand-daughter of Nugget, and in the hop back we found it helped to give some complex bitterness and interesting piney notes. CF162 is from the British Hop collection, and although it was originally grown in 1978 it has never reached the stage of being named. This batch came from Stocks Farm, which some of our team have had the pleasure of visiting on one of Charles Farams' annual hop walks!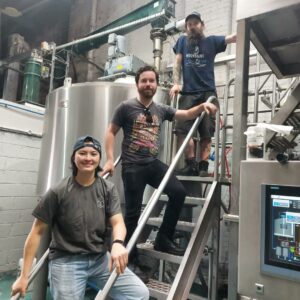 Towards the end of fermentation, we added a couple of experimental American varieties from Yakima Chief's development programme – HBC638 and HBC586 (which was also used in Cryo hop form). Together these give a sweet aromatic top note to the beer, with an abundance of citrus and tropical character too. The US hops were mainly used as aroma additions at the dry hop stage. We weren't aiming for loads of biotransformation (like a New England beer has) as they can end up more cloying and a bit stickier than the intention for this beer. We wanted a crisp refreshing finish with loads of hop influence.
Wanderer – Transatlantic IPA (6.3% ABV) is available in cask, keg and can, and is vegan friendly and gluten free (brewed using Brewers Clarex).
And in keeping with the collaborative theme, the artwork for this release just had to be inspired by the view from a campervan! Incorporating an ocean view to back up the transatlantic element of the beer's ingredient, it evokes being relaxed and comfy, spending time in the outdoors with a refreshing sea breeze. See if you can spot the "trinity" logo from last year's collaboration hidden within the design too. Summery, rounded and refreshing with a clean bitterness and a vibrant tropicality – we reckon it's the perfect beer to take with you on your next road trip!