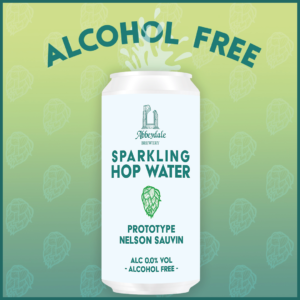 Introducing our new Sparkling Hop Water – 0% alcohol, 100% refreshing.
AVAILABLE NOW IN CAN AND KEG!
Yorkshire water makes the best tea, fact. And we're pretty confident it makes the best beer too. It's amongst the finest in the world, with a balance of minerals which with minimal adjustment allows for the creation of stunning pale ales, as we've been evidencing for over a quarter of a century. In our beers, we love to highlight the amazing variety of nuanced flavours one can extract from hops. And for our first alcohol free offering, we're taking this one step further.
More people than ever are embracing no and low alcohol alternatives to their usual tipple, and this trend looks set to continue. Whilst we have absolutely no plans to stop making our beers, we do want to make sure we're adapting to what our drinkers want to drink, so that means adding something completely new to our range! There are a number of ways in which alcohol-free beer can be produced – none of which are right for us at the moment. Either there is a huge amount of capital expenditure involved, or we aren't completely confident that we could create a product as consistent, or indeed as tasty as our "regular" beers. There are some fantastic alcohol-free beers out there but these tend to be produced by breweries that are either set up specifically to create them, or those that are large enough to invest in the additional equipment required (and the space to put it in!). So we decided that the best thing to do was to play to our strengths – and our hop store is very much one of these!
What we have created therefore is NOT beer, but IS the very finest Yorkshire water, infused with some of our favourite hops, lightly carbonated to create a refreshing, relaxing soft drink. No booze, no artificial flavourings, no caffeine, and naturally low in sugar and carbohydrates – a true elixir of spritzy, zesty, mindful drinking!
We start with that very same water we use for our award-winning beers. We've been at the prototype stage for a while, experimenting with numerous hop varieties, starting with those most familiar to us – so we've already quite literally tested the waters with Mosaic (which you may know from Heathen) and Willamette (the key hop in Moonshine) on a nano-batch level, before scaling up a little with Nelson Sauvin (one the Deception fans out there will be familiar with!). The hops are steeped at 76°C to allow the flavours to infuse – this provides just the right level of bitterness to satisfy, whilst keeping the temperature below boiling point to prevent too much isomerisation. We've added just a dash of lemon juice to provide a little lift… and that's it!
We like to think of this process as a fresh take on tradition and showing off our ingredients in a whole new way. Snapping open a can gives the same heady rush of aroma exactly like opening the bag of hops in the brewhouse, and you can really consider the complexities and nuances of the hop itself when there is no malt backbone to cloak it. This version of Hop Water is incredibly refreshing, aromatic, clean and grassy, with the beautiful and delicate vinous qualities for which Nelson Sauvin is known. Absolutely delicious over ice with a slice!
The benefits of hops and their biochemical compounds when used and infused in this way (i.e without fermentation, and alcohol free) can be numerous. Studies have shown that the polyphenols and flavonoids found in hops work with other vitamins such as vitamin C to have antioxidant properties, which helps your body ward off every day toxins. This can help you to stay healthy, even potentially reducing the risk of certain chronic health conditions including cancer and coronary heart disease. Hops also have mild sedative effects which can help improve your sleep quality, as well as helping to enhance the natural levels of gamma-aminobutyric acid (a clever little chemical messenger) found in the brain, which can lower anxiety and help you to feel calmer.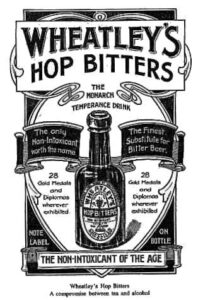 In our research for hop water we've also come across some really interesting local history and the heritage behind our hometown's temperance movement. Loxley Silver Band, who are always a favourite at the Rising Sun at Christmas time, were previously a temperance band. And in the late 1800s, Wheatley & Bates based just down the road from us on Napier Street were producers of "hop bitters", intended to be a refreshing, non-alcoholic drink made of hops with other botanicals including dandelions. This was a hugely popular drink in the late nineteenth century. So we're bringing back a bit of a Sheffield institution, in our own fashion!
We recommend drinking our Hop Water as a healthy soft drink in its own right – it's great for daytime rehydration, as a tasty alternative for a designated driver, and is incredibly refreshing after exercise too. It even comes with the approval of Dr Morton himself! It also just so happens to be absolutely delicious as a mixer (we've had lots of fun trying it with our Locksley Distilling collaboration gin, and Locksley's have experimented with it in a cocktail too with great results!).
Hop Water is AVAILABLE NOW in 440ml can, from our online shop and independent retailers, and on tap in selected venues too. We'd love to hear your thoughts!
Cheers!
Team Abbeydale