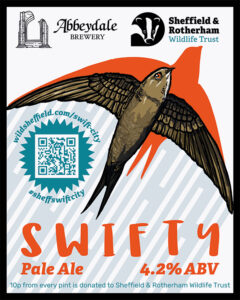 Look to the skies on a peaceful summer's evening and if you're lucky you might catch sight of a swift – an iconic bird, which was added to the red list of species of conservation concern in December 2021. We're working in partnership with Sheffield & Rotherham Wildlife Trust throughout 2023 (more on that in this blog post), and one of their key campaigns is raising awareness of the plight of this beautiful bird and aiming to help the recovery of the local population. Our brew date also fell within Swift Awareness Week, so it was a clear source of inspiration for this year's charity beer!
Introducing Swifty – a 4.2% pale ale, and our charity beer for 2023. In recognition of the amazing migratory journey that swifts make from Africa to the UK to breed every year, we've combined UK hops Fuggles and Keyworth Early with African grains of paradise for a unique and aromatic beer with an gentle yet enticing botanical spice.
We were joined on the brewday by not only the Wildlife Trust but also some of Sheffield Swift Network, who also helped us to identify some spaces on our brewery buildings where we could have swift bricks installed, or nesting boxes added – something all households can look into to help address the declining numbers of the swift. Sheffield & Rotherham Wildlife Trust aim to make Sheffield a 'Swift City', using our urban landscape to help our swifts to rebuild their population. You can find out more about the Sheffield Swift City campaign here.
The beer is available in cask only, so be sure to look out for it on the bar of your local pub! 10p from every pint sold will be donated to the charity. Our wonderful pub, The Rising Sun, is also hosting an extra special charity quiz on Wednesday 19th July, where you can enjoy a pint of Swifty alongside showing off your knowledge – we hear there might even be a specially themed bonus round, so get swotting up! Please tag #SheffSwiftCity in your social media posts too and help to raise awareness of this beautiful bird.