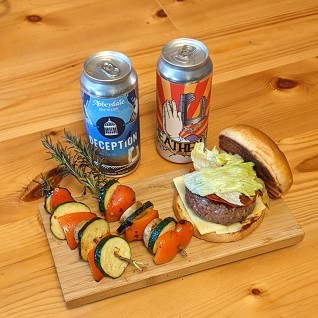 May 29th-June 4th is National BBQ Week, and so we couldn't pass up the opportunity to put together a few pairings with some of our tasty beers!
For the grillmaster – Heresy! For a crisp and quaffable beer to enjoy whilst you fire up the BBQ, you can't go wrong with our lager. Clean and refreshing with a gentle sweetness and low bitterness, just right for working up an appetite!
Cheeseburger and Heathen – our all American hopped pale ale deserves an absolute classic of the grill to go with it, and what is a BBQ without a juicy cheeseburger?! With a pleasing bitterness and assertive hop character to contrast with the salty, savoury burger and cut through the char, and just enough sweetness to provide balance to whichever pickles or relishes you've added atop! We recommend a brioche bun to add just that finishing touch of sweetness.
Veggie skewers and Deception – for lighter options which are less rich and fatty than their BBQ counterparts, we recommend keeping it clean and simple with a gentle pale ale like our Nelson Sauvin hopped New Zealand pale ale, Deception. This won't overpower the more delicate flavour of the grilled vegetables, but will work well whether you've got crunchy and sweet peppers or corn, whilst also being zingy enough to pair well with more earthy mushrooms or griddled aubergines.
BBQ ribs and Splendour – our zesty, orange infused dry hopped pale ale is just the citrussy sensation you need to complement some sticky, slow-cooked, BBQ ribs!
But really, when it comes to beer and food pairing, our best advice overall would be – there's so much potential and no real right or wrong answers, so don't be afraid to have fun and experiment.
Let us know what combinations you put together this National BBQ Week!
PS – we've helpfully put all of the above beers in a special "BBQ Box" on our online shop – a mixed case of 12 designed to make the beery bit of your party planning a breeze! Cheers!