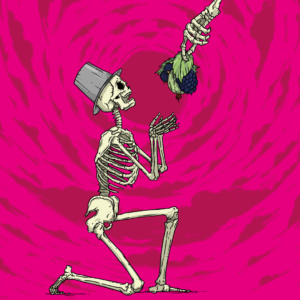 After 12 chapters of our Funk Dungeon barrel ageing and mixed fermentation programme being released in can, we're turning the final page (at least for now!) on this particular evolution of the project – and opening a whole new book by making the exciting move into 750ml bottles! The vision for the project has always been to eventually transition from can to bottle, inspired by the iconic producers of lambic and similar styles from European breweries and producers of revered American sour beer – and it's finally here!
The first bottle release is Foraged Fruits. A barrel aged tart saison, made up of two batches of wort brewed in 2020 and 2021 that were fermented entirely in barrel with local blackberries, blackcurrants and gooseberries before blending. The fruits are a mixture of those carefully plucked from hedgerows by the brewery team, and some lovingly grown on Rising Sun regular Les's allotment – Sunfest goers of years gone by are likely to be familiar with Les, often found volunteering behind the bar in one of his trademark Hawaiian shirts! This release been a long time coming with not only patiently waiting for the beer to be ready in barrel, but also resting in bottle for a number of months prior to release to ensure the complex flavours found within are beautifully amalgamated, presented in their own natural harmony.
The resulting beer is light and refreshing, with a soft fruit acidity accompanied by a delicate oak character and a gentle spritz. 5.2% ABV and relatively low on the IGU (international goat unit) scale, ensuring it's an accessible introduction to this new beginning for our Funk Dungeon project. Carefully crafted, bottled and labelled by hand.
This transition to bottling widens the scope for what these particular styles of beer can be (especially in contrast to our "clean" beers). Allowing for refermentation in bottle encourages ever more interesting flavour development, separate to anything that's already happened in the barrel. This traditional method allows brett character to come forward and shine, including those classic farmyard funk aromas and flavours. For those beers on the more acidic side, the acidity can develop further over time too.
Saisons and complex mixed fermentation beers can be perfect partners to food, and we are enthusiastic about the prospect that presenting them in beautifully designed 750ml bottles enables them to be seen as more "at home" as a sharer bottle on the dining table – who says wine gets to have all the fun?!
Talking of the design – with the move to releasing our Funk Dungeon range in 750ml bottles, we saw an opportunity to evolve the artwork whilst maintaining the unique identity that our award-winning can range has developed, including the tactile finish on the labels. There was a need for the bottles to stand out on bottle-shop shelves and also look at home next to other special releases and wine. We wanted these new bottle designs to focus on the individual skellie character in more simplified situations that help explain the beer found within, in contrast to the can range which makes use of layered, detailed scenes that tell a story as well as often a pun. Each design in the new range will aim to incorporate the ingredients or process within the focus of the image. Overall, a more refined and sophisticated look which reflects the developments made in our in-house processes.
These releases are exceptionally limited (there are only 60 bottles of Foraged Fruits available), but the move from cans to bottles allows for more frequent, smaller batches, which in turn gives us more space for experimentation. To give you a small flavour of what else is to come, look out for news on beers made with our friends at Balance Brewing, one making use of surplus blood oranges from Locksley Distilling, and a collaboration with the fantastic DuckChicken Cider. So there's plenty in the pipeline, and we're really excited to see the potential that these beers have.
Foraged Fruits will launch on our online shop on Friday May 19th, and will be available in bottle shops from this date too.
Mind your head.
Cheers,
Jim Rangeley, Funk Dungeon Lead Brewer