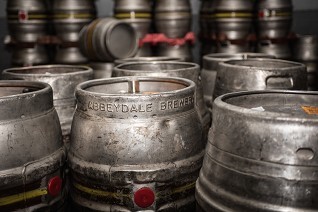 With pubs allowed to re-open their outdoor spaces and re-commence takeaway of alcohol from Monday 12th April (albeit with a number of conditions to fulfil), we thought it would be helpful to issue an update for our lovely trade customers – we've really missed you, and we're ready and waiting to help you through the next part of the roadmap into the new normal.
You may be aware that we haven't ceased brewing at any point over the past year – although we have of course been quieter, and with many of our brews headed straight into can, we are now increasing production and are getting plenty of fresh beer ready to deliver to you in time for the proposed opening date. We aim to have all of our core beers in stock in cask (including 18s, for those of you who prefer these) as well as a good selection of keg products for you to choose from. Plus we've got a huge variety of cans (including of course our familiar flagship Moonshine!) if you're looking to introduce or expand a takeaway facility for your customers.
Like our business has, we are very aware that your business is likely to be thinking on its feet and making changes to what was once the "usual". We understand that you may have different operating times and stricter policies, so please let us know if your delivery requirements have changed and we will do our very best to accommodate these. From our perspective, we will be doing our best to keep the regular delivery days you are used to (get in touch if you need a little reminder), and our drivers will of course be adhering to social distancing and strict hygiene measures themselves.
Just in case you are not already aware, we have a provisional order system which new and existing customers alike are very welcome to make use of. This secures your beer for you but with no obligation for you to take it. So if you are planning to re-open on the 12th, let us know and we can reserve your stock – but don't worry if you experience any delays, we will happily keep it safe in our cold store until you are ready to receive it. (Of course, this also applies to those of you who will be staying closed under step 2 and are waiting until step 3 or later too).
We hope you are all safe and well – we are here to help, so do get in touch if you have any questions. Our office has been a little quieter than usual with some staff on furlough, however we are now staffing up and bringing the team back. Please be aware that your usual contact may be working flexibly with some time spent working from home, but you can reach us by email or you're more than welcome to speak to anyone within the team, any time. We are ready and waiting to take your call.