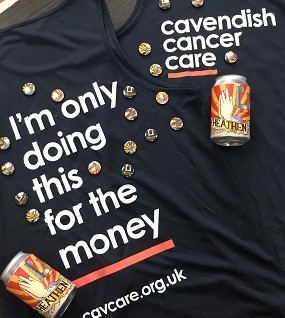 This year, the 29th March sees five of our team – Laura, Jim, Scott, James and Tommy – take on their biggest challenge yet, The Sheffield Half Marathon. The team have been out training hard in all weathers (thanks, Storm Dennis!) and are well on track to achieve their goals. Please head to https://justgiving.com/fundraising/team-abbeydale-brewery to help us in our fundraising efforts – it really does make a difference.
And so with just 5 Sundays between now and #TeamAbbeydale heading to the start line, we thought it only fit to share with you why we're asking for your support.
Two years ago when our Events Manager, Carly, joined the team she managed to wrangle 10 of us into taking part in the Sheffield 10K raising over £1500 for Cavendish Cancer Care. After being diagnosed in 2015 with Hodgkin's Lymphoma and back fighting fit she saw an opportunity to build on the relationship Abbeydale Brewery already had with them and give something back. At the time she wrote:
"It is my belief that we need to raise two things to help a charity not only sustain itself, but to grow; money (of course) and awareness. I chose to get involved as I think it's vital that people are more aware of them, I was lucky that I already was. You get so much information within those first few weeks of a diagnosis, I hope that if someone reads my story it registers on different level in some way."
Back to the run, and the team were given three options; 1) run it, 2) come down and cheer us on/volunteer or 3) donate… which is what led to ten of us lacing up our running shoes and taking part!
One of those 10 was Laura, our Office & Communications Manager, who having never been 'a runner' before got well and truly bitten by the running bug and it quickly became obvious that this was going to be a new passion, despite being in no way a natural runner! After completing the Sheffield 10K in 2018 along with 3 other runs around the county, she decided 2019 was going to be the year she ran over 500km, including once again the Sheffield 10k raising vital funds and awareness for #TeamCav and ultimately joining local running club Steel City Striders.
With what some describe as a beautifully scenic route with gorgeous views…while we're more inclined to count the inclines (!) this year's half marathon is sure to be 13.1094 miles of pure Sheffield love. The support, not only in donations, but in the number of Sheffielders who line the way. Thank you in advance for any words (shouts) of encouragement, sweets, songs, and most importantly smiling faces!
We reckon if each of our beloved Abbeydale fans (based on our Facebook followers!) donated the value of their favourite pint *cough cough Moonshine* we'd raise an astonishing £22,586! If that figure isn't worth the cost of just one extra beer then we're not sure what is!