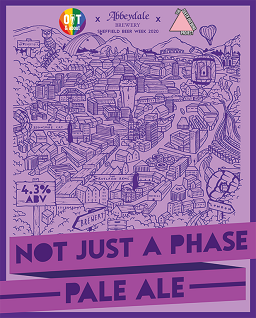 This Sheffield Beer Week (March 9th-15th), we're keen to be involved with and help to spread the important message of inclusivity, accessibility, acceptance and friendship for all who are involved in the beer industry. Brewers, publicans, bottle shop owners, beer writers, and of course, beer drinkers.
And so our special release for this year is Not Just A Phase, a 4.3% pale ale brewed in collaboration with Sheffield's very own Out & About, and The Queer Brewing Project (head to their pages to find out more about their hugely valuable messages, and the work they're doing to bring them to the industry as a whole). It's both a call to arms and a celebration of diversity, and is also both vegan and gluten free, released in cask and keg formats.
We welcomed award-winning Lily Waite of The Queer Brewing Project along with Michael and Heather from Out & About to the brewhouse on a stereotypically Sheffield rainy day in February, where we were all treated to a lovely straightforward brewday (not often the norm on collaborations!) powered by cheese toasties from our friends at Dead Donkey.
Not Just A Phase is hopped with Amarillo, Chinook and Mosaic, to bring a zesty orange and grapefruit character, with a hint of sweetness in the backbone from the use of Munich malt and Caramalt. Overall, a deliciously quaffable, refreshing and fruity pale ale that's incredibly accessible, and as Lily puts it "this beer is a bunch of queers planting a flag in the ground that the LGBTQ movement across the beer industry is, well, not just a phase".
Coming later in the year we're teaming up again to produce something from the Funk Dungeon project too! Watch this space for more details…
The official launch party of Not Just A Phase is taking place at the Devonshire Cat on Friday 13th March, as part of a tap takeover showcasing a variety of other beers that have been brewed by LGBT+ people. All are very welcome!
Photo credit: Lily Waite
We'll also be pouring our collaborative brew at Indie Beer Feast this coming weekend (March 6th and 7th) alongside a whole host of other tasty treats, so do pop along for some pre-Sheffield Beer Week shenanigans! Tickets are still available for both Friday sessions at the time of writing although advance tickets for Saturday have now sold out. Please do pop by and have a beer at our bar!
Cheers!