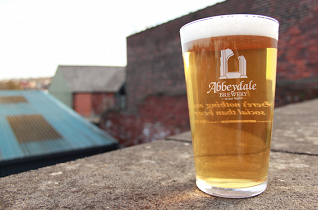 Here's what we're doing at Abbeydale Brewery to try to bring a little bit of sunshine to your days.
We're aware that we should all be doing our best to stay at home at all times right now, and your favourite watering hole is "out of bounds". Please don't forget that you can still get hold of our beers to enjoy at home from our online shop at abbeydalebrewery.co.uk/shop and we can bring your favourite beer right to your door!
We are continually updating the offering on there (starting with the return of MOONSHINE MINIKEGS, which are available now, along with minikegs of our other core beers!). We would love to hear your ideas for anything we could add! Our can stocks are running a little low currently, but we're working hard to get things back in stock!
We offer a courier service for delivery, taking all the stress out of ensuring you can get your beer easily. We've also just introduced free local delivery for all orders of over £25, so if you're based in Sheffield and place a qualifying order please select this option. In light of the government announcement of Monday 23rd March, we have suspended the option of collection from the brewery with immediate effect. We aim to get all orders out within 2 working days, but please bear with us (especially if you're not particularly local to the brewery) as we are collating orders by area. We are of course very carefully following all government guidance and have strict procedures in place to ensure we are all kept safe, and will continue to monitor the situation and do our best to adapt as quickly as possible. We know how important sitting down with a beer is, so we'll continue to do everything within our power to keep it flowing!
We're all in this together, and so we wanted to do something to help the rest of our amazing industry community. As such we're starting a little initiative – for every order on our online shop from a member of the public totalling over £40, we will commit a forward credit of £10 to the pub you would normally drink our beer in, which the pub can claim from us when this has all blown over*!
Our pubs, The Rising Sun and the Devonshire Cat, are now closed in line with the government's ruling of Friday 20th March. We will really miss them (along with all of our other wonderful pub customers) but we'll keep you all updated when the times comes that we are able to re-open safely.
We always used to say that "There's nothing more social than beer" and we're really passionate about not letting this go despite the challenges our industry and the wider world is currently facing. Our business has been built on the strength of our community and it's critical to us that all work together at this time. Please reach out to friends and family using phones, emails, chats, etc. And where we can, let's help each other. If you ever fancy a bit of a chat, we're here. Please feel free to reach out to us (who's up for a Skype drinkalong at some point?!). We at Abbeydale would like to thank all of our customers for their loyal patronage and in these challenging times we send each and everyone our very best wishes.
We can't wait to join you all for a pint when this is all over.
Team Abbeydale x
*Max. credit per venue of £100 available