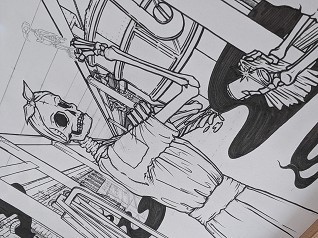 The latest beer has recently been unleashed from our Funk Dungeon project! Sheffield Red is the seventh chapter in our series of super special, limited releases, so we thought we'd share more of the story behind the incredible artwork on this beer. (And head here to read more on the beer itself, in a technical run through of the brewing process).
Our awesome designer, James Murphy, has taken inspiration from three main images and some other points of local history to create the skele scene you will see on our cans.
The central characters are based around buffer girls, important parts of the workforce in Sheffield's world renowned cutlery industry. Two of these were immortalised in a famous painting by printmaker, draughtsman, writer, and teacher Sir William Rothenstein in 1919. Buffer girls were responsible for making sure cutlery and other metal goods had a smooth, shiny surface. It was hard, hot, and dirty work, so the neckerchiefs and headscarves you see depicted in the artwork were worn to try and keep the women clean and keep the worst of the sand they used to polish the cutlery off them. The central character is wearing "buff-brats" – dress typical of a Buffer Girl during World War One, with the character on the right hand side wearing clothes which they would have worn during World War Two, like those you can in the "Women of Steel" statue outside Sheffield City Hall. The character shown painting on the left is James' interpretation of Rothenstein himself.
The pose of the central character is based on that of the famous Rosie the Riveter – a fictional character yet cultural icon who represented all of the women who worked in industrial settings during the Second World War.
There's a nod to the Duchesse De Burgogne label included in the form of a little skeleton sparrow hawk – this is one of the all time favourite beers of a number of our team here and was a key inspiration behind the establishment of our barrel ageing and souring project. We like to see this style of beer as our little homage to that.
There are other little secrets hidden within the artwork too – you might be able to spot that the name of the large molten steel ladle is 'Lizzie', after the famous elephant who worked in the steel industry in Sheffield during the First World War. And although from a later time, there are some Morton's cutlery and a tuning fork in one of the Buffer Girl's pockets, representing our brewery founder Pat Morton's connection to Sheffield's industrial past – you can read more about this here.
Finally, can you spot the "Mind Your Head" which appears in each and every one of our Funk Dungeon special releases?!
Cans of Sheffield Red are available now from our online shop and via independent retails nationwide – and look out for it popping up on bars too!
Cheers!