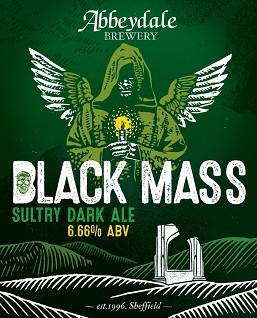 Black Mass is the enigma of our core heritage beer range, sitting somewhere in between a stout and a well-hopped dark beer – we like to say it might have been one of the very first Black IPAs! This week marks exactly 25 years since it first came into being, so to find out more about our "sultry dark ale", we're handing over to our brewery owner Pat Morton to tell us all about its history…
"Black Mass was first brewed on 6th November 1996, and was only the 26th batch of beer ever made here at Abbeydale Brewery. As far as I can recall; this first brew was successful. It was largely a development of my first commercial stout: Kelham Island's Bête Noire, and alongside my homebrewing experience meant that it was a relatively familiar style for me to create, despite it being almost an "outlier" compared to the rest of our range. It was one of those beers where the name came first – Black Mass was intended to be a counterbalance to the Absolution and Matins brands, both of which were pale, easy drinking beers, so both the name and style stood in contrast to these. With that name, the ABV had to be 666!
In my early twenties I did most of my drinking in Irish pubs, which meant I drank a lot of Guinness. In the 1970s there was a lot to like about keg Guinness. The alternatives were lager (which I never drank), keg bitters (unspeakable) and the Russian roulette of cask beers. Draught Guinness was dependably consistent and (comparatively) flavourful. So this was one of the key inspirations behind Black Mass.
The recipe has changed quite a bit over the past 25 years – the very first brew was single hopped with Cascade, and had oats and mixed cereals in the grist – whilst the malt bill is still complex (featuring crystal malt, both chocolate AND pale chocolate malts, black malt, and roasted barley), it's more consistent now. It's had all sorts chucked into it over the years, even smoked malt on a few occasions. It's a very pretty beer to brew, with the dark malts forming a nice spiral in the mash tun. Throughout the years it's always been quite heftily hopped (it weighs in at over 150 IBUs), as I was looking to emphasise a good depth of bitterness, and wanted the assertiveness of the hops to cut through the flavours from the roasted grains. Originally it was used to sweep up any of the hops we had open! We don't take such a cavalier approach these days, but it is a very forgiving beer to brew! It was (and remains!) an expensive beer to make, but I've always thought it's worth it."
We've made a few variations of Black Mass over the years – giving it a long run off was the perfect base for Dark Matter, a 3.6% mild (a style we have only very rarely dabbled in over the years), and we brought down the ABV again for our release of Baby Black Mass in celebration of our 20th anniversary in 2016. This one came in at a quaffable 4.8% but with additions of freshly ground coffee and lactose to ramp up some of the flavour components found in the original brew.
Black Mass was a very modern beer back in 1996 and it absolutely still tastes relevant today – it's won gold in the stout category at CAMRA's Champion Beer of Yorkshire competition on four occasions between 2009 and 2017, plus a silver in 2020. Rich and smooth on the palate, with delectable flavours reminiscent of bitter chocolate, fruitcake and raisins, and aromas of coffee, dark chocolate, and just a hint of burnt toast, it's classic and familiar yet simultaneously unique and boundary defying. In 2020 it made the move into cans alongside the rest of our core range, meaning it's a little easier to get hold of these days (something which many of Team Abbeydale are very happy about indeed!).
You can get a can to try for yourself in honour of Black Mass's silver anniversary via our online shop, or at an array of independent retailers nationwide.
Cheers!