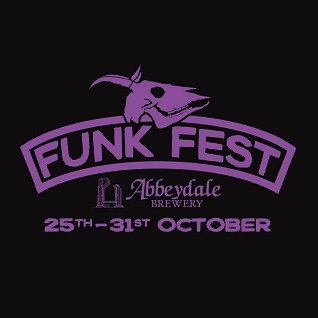 Hi, funky beer fans!
In case you missed it – Funk Fest is returning for 2021, as a multi-venue celebration of all things sour, wild and mixed fermentation!
Taking place from Monday 25th to Sunday 31st October, we're working together with breweries, pubs, bars and beer shops around Sheffield and beyond, who will all be joining us in shouting about some amazing mixed fermentation and wild beers, ciders and even natural wines. Here's what's lined up so far…
Monday 25th October – Beer & Bites, The Rising Sun. Our brewer Jim has teamed up with our wonderful chef Dave to create a delicious tasting session, featuring six Funk Dungeon releases perfectly paired with six yummy nibbles. This event is now sold out!
Also on the Monday, the Rutland Arms will be pouring the very first of our Queer Brewing and Out & About collaboration, Glory!, Glory! – a pink peppercorn saison. They have an extra special "plum sauce" variation with the addition of plums and Szechuan peppercorns which is a one off keg! Cans of Glory!, Glory! will be launching next week too, with 10p from each can being donated to local LGBT+ charity SAYiT.
The Crow Inn will be hosting a Berliner Weisse event on Tuesday 26th October, featuring a specially created base beer and different flavours of syrup made by the Rutland Arms kitchen for you to choose from. We did something similar in 2019 and it was an awesome night, so don't miss out!
From Tuesday onwards, Hop Hideout are curating a UK mixed fermentation showcase, starting with beers from ourselves and Little Earth Project, with a Cider Women showcase also running throughout the week. Plus on Friday, they're launching the next 750ml bottle release from Crossover Blendery!
We're very excited to have a cidery on board too! Ascension Cider will be at newly opened The Cider Hole on Thursday 28th October for a tasting of six of their always fantastic (and occasionally a bit bonkers) ciders. Tickets available here!
Friday 29th October sees some incredible guest breweries getting involved – the Pangolin are hosting a Yonder Meet the Brewer and Tap Takeover (this is a ticketed event, pop in to Pangolin to get yours!), and Shakespeares have a whole bunch of beers pouring from Belgium's Brouwerij Alvinne (plus a special cask of an otherwise as yet unreleased Kriek from the Funk Dungeon). And our friends at St Mars of the Desert will have a new version of their excellent Stingo range available during their taproom opening hours.
Ascension are making the most of their trip up from Sussex, as on Saturday 30th October, they're joining us for a brewday… and you're invited! In person tickets are incredibly limited (snap one up here), but we'll be sharing loads of insights from the day online too. We'll be making a Graf – a beer cider hybrid – and we can't wait!
And funky beers will be in the spotlight across Sheffield throughout the week at Bar Stewards, Jabbarwocky (did someone say Funk Fest inspired dumplings?!), Industry Tap, Beer Central, the Green Shop, Turners and the Kelham Island Tavern (who will have two Funk Dungeon beers ON CASK – a Nelson & Galaxy dry hopped saison and a one off apricot sour!). Outside of Sheffield, Arcadia in Leeds will have three of our beers available over the week, including the very last keg of BA Chianti Sour, and the Broken Seal Tap Room in Stevenage have a keg of Sheffield Red which is being included in a tutored tasting on Friday evening.
We'll also have videos to go with our new releases for you to watch and taste along, and will be running various other online and interactive bits and bobs all through the week too.
Also a shout out to The Bear, who have got some of our special kegs reserved for a Meet the Brewer event on November 12th – remember Funk Fest is for life 😉
Keep checking back here as there are more events being confirmed all the time (and do check details with the venue direct before you travel too to avoid disappointment), and if you're a producer, retailer or venue that would like to be involved, there's still time to get funky with us! Please get in touch with anything you'd like to do to help us spread the mixed ferm word, we'd love to have you on board!
Cheers!