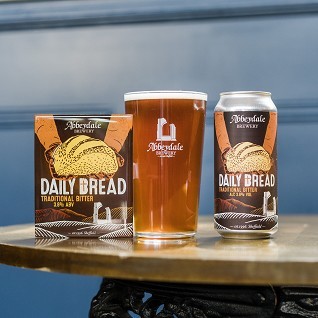 Daily Bread is our best bitter – a 3.8%, well-balanced, easy-drinking beer, malt driven with a subtle sweetness. It's the most traditional beer we make, and yet it's only been part of our core range since 2005 – coming into being almost a full decade after the pale, hoppy ales we're so well known for.
From the beginnings of the brewery in 1996, brewery owner Pat Morton set out to brew the kinds of beers he liked to drink. With American and Australasian hops beginning to make their way onto the market, and with neither Pat nor co-owner Sue enjoying the flavour of crystal malt which was so prominent in the readily available "brown beers" which were made by all of the big national breweries at the time, we built our reputation instead on pale and hop-forward beers, many of which we still make today (especially Moonshine and Absolution!). People quickly came to associate the name of Abbeydale Brewery with this sort of beer and so we didn't see much of a need for anything like a best bitter in our range of regularly available beers.
This all changed when we took over The Rising Sun in 2005! Most of our regulars there were John Smiths drinkers, a somewhat stubborn (but lovely) bunch for whom Moonshine just wouldn't do! And so we set about thinking how we could win them over, taking on board feedback and creating a new beer with our community in mind… and so Daily Bread was born. It wasn't something the brewteam were particularly excited about at first (Pat even snuck in on a Sunday and brewed the first batch in secret!) but it's a beer we've all grown very fond of indeed over the years. It's very much designed to be a traditional and straightforward bitter, but one which is still lovingly and carefully crafted. It's also the only beer currently in our core range made with predominantly UK grown hops (Fuggles).
The originator of the name is lost in too many beer fuelled discussions, but it certainly came from the folk in and around the brewery at the time and fits in with the loose ecclesiastical theme that connects a number of our beers. And Daily Bread as a name is very fitting for the style – it speaks of sustenance and simplicity, and of all of our beers it's the best one that communicates to the customer exactly what it says on the tin (literally, since beginning to can it last year!) and the drinker knows just what to expect before taking that first sip.
The move to smallpack has helped to start to build up a new following for Daily Bread, and it's one of only a few beers of this type to be seen in can. It scooped the regional Gold award in the SIBA Digital Beer Awards 2020 (Bottle/can British Bitters category) and overall national Bronze – with the Silver & Gold winners here being in bottle. So in its own way, the beer we'd always seen as the "least fashionable" of our core range is now a bit of a trailblazer! (You can pick up cans of this award-winning hero here!) In 2023 it also scooped Regional Gold in the SIBA Bottle & Can Awards 2023 (Bitters category).
Here's to Daily Bread – a timeless classic and an ever-dependable pint. Cheers!
Photo credit: Mark Newton Photography