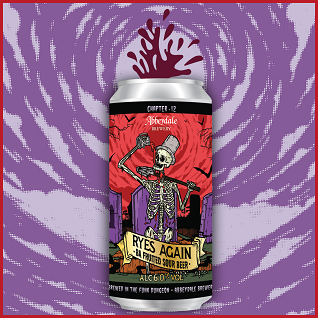 Some of you may remember that back in July 2019, we released Chapter 1 from our Funk Dungeon project in can. That beer was Ryes From the Grave – a statement of intent for the project and the culmination of almost two years of time, care and attention (you can refresh your memory here if you'd like to read more). And now it's time to Ryes Again…
The nature of our Funk Dungeon means that no two beers will ever be exactly the same – whilst in the rest of the brewery (with our core range in particular) we aim for absolute consistency, barrel aged beers and those made with wild yeasts are much more of their time and are harder to constrain to a set flavour profile. So this isn't a re-release, but more of a reworking, turning back the pages on the project in an attempt to harness a memory, whilst showcasing where we're at right now at the same time.
Ryes Again contains a blend of beers aged for up to four years, including some two year old spontaneously fermented Kriek and the very last barrel of the very first batch of our Flemish Red style beer, Sheffield Red – we're sad to see the end of this one, but pleased it's found a place in such a special beer for its final resting place. A barrel of stock ale was dosed with fruit from the allotment of one of our lovely Rising Sun regulars (cheers, Les!) – blackcurrants, which were also used in Ryes From the Grave, and a new addition of raspberries layering up yet more character alongside the cherries from the Kriek.
The resulting beer is bold and intense in flavour, 6.0% ABV, with a huge hit of tart berry fruits, oodles of cherry character, and a hint of soft vanillins paired with unctuous marzipan. There's a spicy, slightly dry finish with an almost balsamic sourness. It's reminiscent of Ryes From the Grave whilst still holding its own unique character. As with all of our Funk Dungeon releases, we've aimed to showcase the influence of classic Belgian styles alongside being inspired by the eclectic and innovative world of contemporary sours, whilst brewing, fermenting, blending and packaging our beers in our own unique way, producing something that is modern beer and yet steeped in tradition.
In terms of the design for the can, it felt appropriate to revisit the artwork from Chapter 1, where we first met our skele friend – a character now synonymous with our Funk Dungeon project. Our designer James Murphy chose to reflect the additional complexities found in this release with a little extra shimmer here and there and added depth to the colouring on the character, whilst also making sure the core colours of the range (purple and green) remained apparent. The main change comes in the background, with a new bright, shimmering cherry-red sky behind our skele friend as he emerges again from his grave.
Whether you were a fan of the original release or are coming to this beer for the very first time, we'd love to know what you think. It's a style that we feel will develop well over time, too, so we'll be cellaring a few cans for a special occasion as well as enjoying it fresh (well, as fresh as a barrel aged beer can be!) right now. Cans are available from our online shop, or via an array of independent retailers nationwide, and limited kegs are available for trade customers too.
Stay funky – cheers!