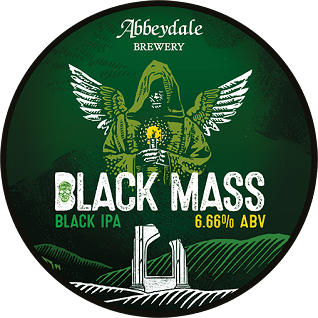 Same beer, stronger identity!
Black Mass has previously been described as a bit of an enigma… a hop forward dark beer, too hoppy to be labelled a straightforward stout and without a category to define it over 25 years ago. The term "Black IPA" simply wasn't around when the beer was first made, on 6th November 1996, and as a descriptor it didn't really become part of the beery lexicon until circa 2008 – with its oxymoronic nature causing both consternation and fascination in the beer world ever since!
We've always made a point of brewing whatever we want and not really following the fashions, and we reckon that we were ahead of the curve with this one. We've edged around relabelling Black Mass as a Black IPA for a few years now, and it seems to be that that's what most of you like to describe it as, so we're being bold, we're nailing our flag to the mast, and we're calling it… Black Mass is not just a Black IPA, but it's one of the world's first, and certainly one of the most long-standing.
In exciting news, to go with its new identity, Black Mass is now going to be AVAILABLE IN KEG as well as cask and can! We trialled this at a Tap Takeover at the King's Arms in London a few months ago and it went down so well we're making it a regular feature.
We're also pleased to announce that Black Mass now joins many of our other beers in having Brewers' Clarex added to the brew, so is labelled GF moving forwards. And while we're at it, we've removed the finings too, meaning it is vegan friendly! (Please note there is likely to be some overlap in batches on bars and shelves, so do check at the point of purchase if you have any dietary requirements!) Other than these small tweaks, which in no way affect the flavour, the recipe remains exactly the same.
Black Mass has been with us since our very beginnings as a brewery, and we feel this move to strengthen its identity helps it prove its place as a beer which is still incredibly relevant to where we are today. It's heavily hopped with predominantly Cascade, weighing in at over 150 IBUs and 6.66%. Rich and smooth on the palate, with delectable flavours reminiscent of bitter chocolate, fruitcake and raisins, and aromas of coffee, dark chocolate, and just a hint of burnt toast, it's classic and familiar yet simultaneously unique and boundary defying.
(You can read more on the history of and inspirations behind Black Mass in this blog post, published last year in celebration of its 25th birthday, too).
#BIPAComeback? We're all for it! But maybe, just maybe, it's been there all along…
Cheers!
PS of course we had to ask brewery owner and Black Mass creator Pat for permission – here's a sneak peek into our decision making process!