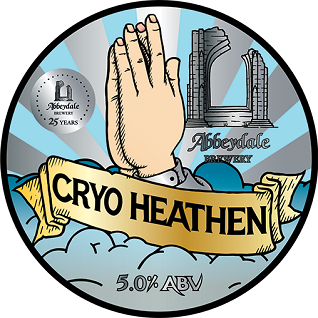 When we first started brewing keg beers early in 2014, we set about a series of one-off beers that were (imaginatively) named 'Pale Ale #1′, 'Pale Ale #2, and so on. Our favourite recipe was 'Pale Ale #6′, which was later renamed Mosaic, after the hop it was brewed with. The initial artwork for Mosaic was originally intended to be a stop gap and the long-term plan had always been to rebrand and rename the beer to bring it into our range of permanently available brews. So we set about the task of coming up with a new name for this wonderful beer. We wanted something that was worthy of us shouting about, something that recognised our past, but also that could help drive the image of the brewery forward in this ever-changing industry.
And so it was that back in 2016, we enlisted the talents of an artist called James Murphy, who was asked to create a contemporary design for our Mosaic release. Many names and ideas were passed back and forth over a couple of months and after meeting brewery owners Sue and Pat, and Sales Director Dan, for pizza and tank beers at Crate Brewery in London; James came up with three working ideas for the newly named Heathen American Pale Ale, alongside a re-drawn Abbeydale logo.
The first of these designs, and the one favoured by James, was a sea god and crow with waves crashing over the Abbeydale logo. Following on in a similar fashion, the second was a stylised Norse helmet with the Abbeydale logo within. In hindsight, both these ideas had their limitations and would have had a restricting effect on any future expansion or development of a range.
The third design shows the origins of the now well-known 'praying hands' design we have come to love. At first, it was felt that the crossed fingers did not necessarily work and the hands would simply be praying to the Abbeydale logo instead but throughout the development, the crossed fingers were brought back in – insinuating that the character was not actually praying, but believed in luck instead.
The background and supporting information were then neatened up and the ubiquitous rays were introduced – starting with a bright red alongside a complementary amber to represent the beer colour.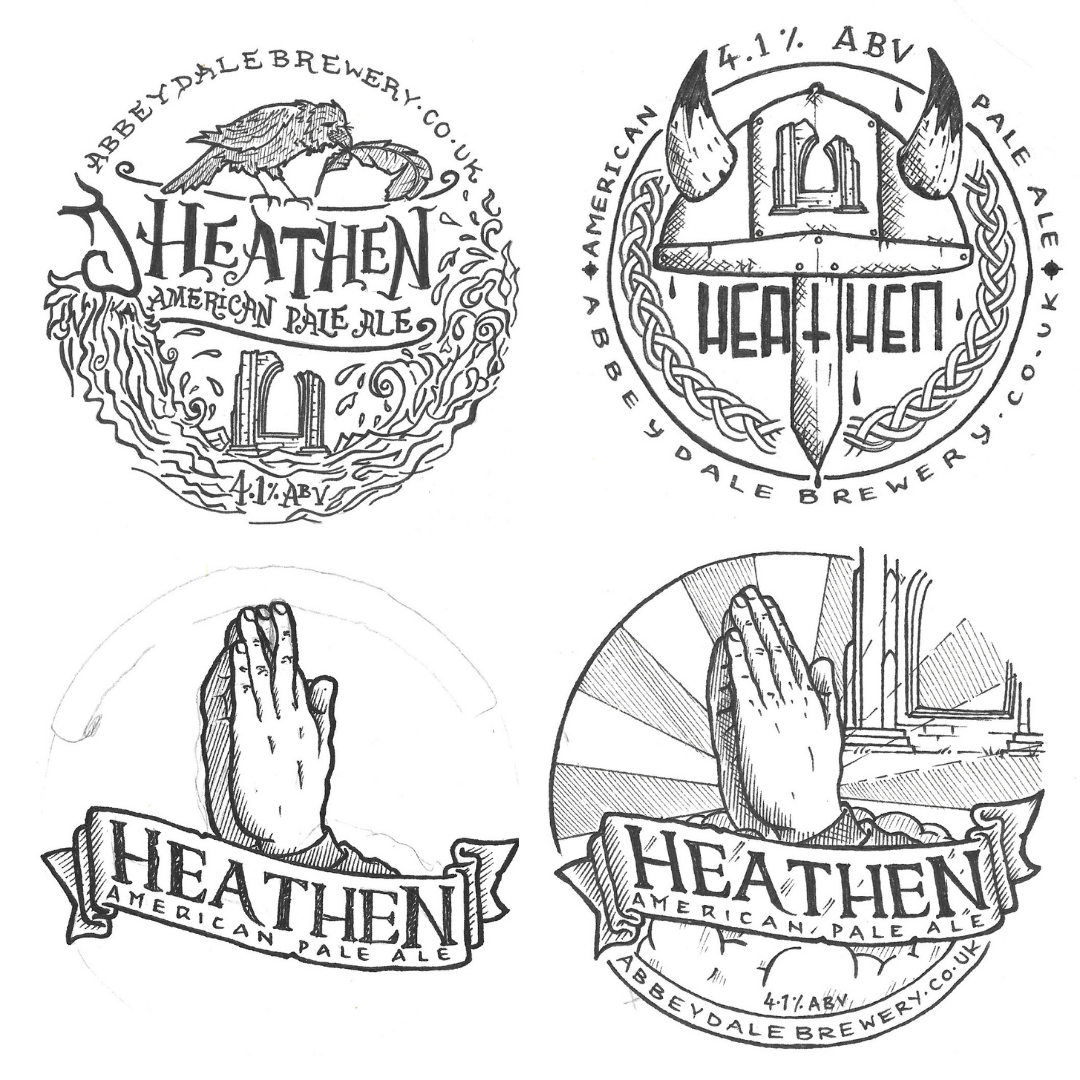 At the time of the Heathen launch, we said "we hope this is the start of a long working relationship between James and the brewery" and we're absolutely delighted that this wish came true! Over five years on and Heathen was effectively the kickstarter for our Brewers Emporium range, which we officially launched in March 2017 – and James is now our in house designer!
So for our 25th anniversary we felt it was only proper to celebrate not just those beers which have been with us since the very beginning, but those that have become a key part of our identity in the years since. And it was so popular back in August last year that we've made it again in time to enjoy before the first frost of winter arrives!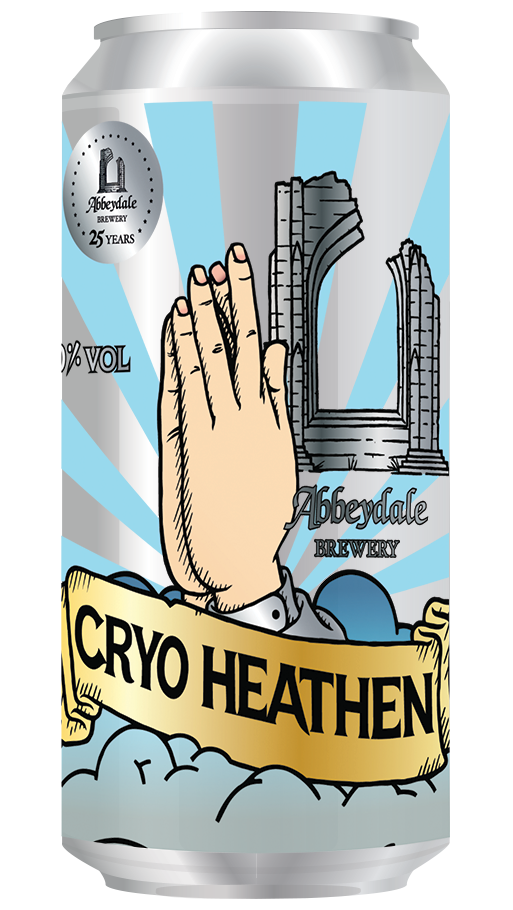 Welcome back Cryo Heathen – a ramped up, special edition, even more Mosaic-y version of Heathen! Weighing in at just a slightly heftier 5.0% ABV, it holds those familiar flavours of grapefruit, mango, and peachy undertones that we know and love but with everything given that extra bit of a boost. Mosaic has been added in leaf, T90 and cryo hop form, resulting in an aromatic and flavourful beer with a lipsmacking bitter finish.
Cryo hops have undergone a process whereby the hops themselves are preserved at low temperatures, and the lupulin (where all the good stuff is!) is separated out and concentrated into a pellet – so it's absolutely packed full of intense flavour and aroma (you can read more about these tasty little things here!)
The term "Cryo" comes from the Greek word 'kryos', which means "frost", so for the artwork for this special release we looked to communicate this without steering too far away from the familiar Heathen identity. This release was originally part of our 25th Silver Anniversary celebratory range of beers and we wanted to use a technique that would help the beer stand out. The use of transparent labels, as with our Funk Dungeon range, allowed us to utilise the cold, reflective silver of the can alongside the cool blue to emphasise the 'Cryo' to great effect.
Cryo Heathen is available to buy in can from our online shop from Monday 30th May, as well as from independent retailers, with cask and keg available for our trade customers too.
Cheers!