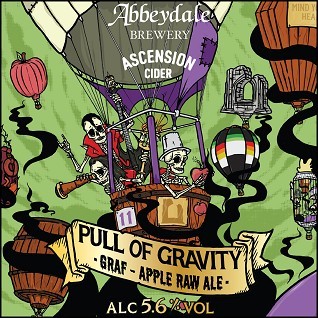 Our latest Funk Dungeon release is here! Introducing Pull of Gravity, a 5.6% apple raw ale which was brewed during a live brewday event as part of Funk Fest 2021, in collaboration with the amazing aeronauts at Ascension Cider.
One of the key focuses of our Funk Dungeon project now and moving forwards is around our locality and celebrating the produce the UK has to offer, so Pull of Gravity has been created using solely ingredients grown in the UK: Plumage Archer heritage barley, juice from pressed Cripps Pink apples (fruit rejected from supermarkets for not conforming to their superficial beauty standards, and rescued by Ascension!), and Olicana hops.
Of all the beer styles we have created in our 26-year history, the raw ale comes the closest to using bygone traditional brewing techniques in theoretical process, although modern technology (thankfully!) means we can measure temperature accurately and don't need to do things by eye. We mashed in the Plumage Archer (which we also used in recent release Gothic Country, where we wrote a little more about it here) and some torrified wheat along with rye malt for a little bit of wort composition complexity and spicy flavour. The brew was mashed with no water treatment for around an hour, before running off into kettle, used here only as a collection vessel (as the name of the style suggests, with this being a raw ale the key difference between this and every other beer we've ever made is that this one didn't get boiled!) before running off again into the hopback with Olicana at 2.5g/l. Olicana is one of our favourite new UK hops, showcasing lots of really nice citrus and grapefruit and a big hit of spice. But in the relatively low quantity we have used it here, rather than too much bold flavour it adds a nice layer of complexity to a drink that already has a lot going on.
After the hopback, we blended the raw ale with our freshly pressed apple juice before leaving for primary fermentation in stainless steel. We made the decision on the day not to pitch our house yeast straight away and see the kind of natural, spontaneous fermentation we'd get – by the next day the wort was vigorously and happily fermenting. Within 5 days the majority of primary fermentation had finished, and after another few days for the krausen to settle down a bit it was time to fill our barrels. We've used a mix of 6 ex-bourbon barrels, 2 ex-red wine casks and an IBC, where the beer has sat for around 9 months, drying out with brettanomyces fermentations and souring with the presence of both lactobacillus and pediococcus.
The resulting beer is clean, sweet and fresh, with (as you might expect) a prominent apple character. Delicate, juicy and floral – very easy drinking and sings of the orchard, with a gentle level of funk and light acidity coming through in the finish.
The artwork for chapter 11 from our Funk Dungeon project was, our designer James recounts, "A fun one to work on and particularly challenging to fit in everything within the loose brief!" The brief in question was inspired by the Misfits and the name of their song "Hybrid Moments" reflecting the hybrid nature of the graf style and also the collaboration between ourselves as a brewery and cider producers Ascension – which also works with the loose musical theme we like to see represented across all of our funky releases. Plus, of course, there simply had to be hot air balloons on there! The name of the beer comes from another of the Misfits songs, Black Hole, which James felt would work well within the range's aesthetic (as well as giving a nod to the apple of Isaac Newton!). James adds, "there's not so many 'easter eggs' within this one, just a broad range of hot-air balloon designs we hope you'll agree would look amazing in reality (and one of them does, as we've included Matt from Ascension's own balloon!)." Of course, Mind Your Head is still there for you to find, as it is on all of our Funk Dungeon labels – let us know when you've spotted it!
If you'd like to try this very special beer for yourself, it's available now in 440ml cans from our online shop or via independent retailers, and kegs are available to our trade customers too.
Cheers!