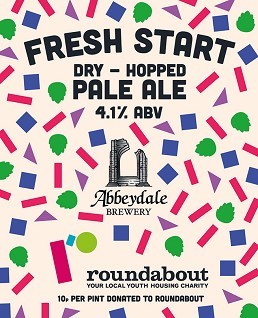 We're very excited to announce that our charity partners for the duration of this year are Roundabout, a Sheffield based youth housing charity who do huge amounts of incredibly valuable work within our community. And we've teamed up with them to create their very own beer!
Fresh Start is a 4.1% dry hopped pale ale with Enigma, Simcoe and Vic Secret hops. Expect a vibrant, tropical character with a full bodied mouthfeel and a berry fruit flavour in the finish. The name "Fresh Start" was put forward by the Roundabout team and is reflective of the ethos of the charity and the difference they can make to the lives of young people in South Yorkshire.
In previous years, our charity beers have always launched at Sunfest, the beer festival at the Rising Sun which was held annually until 2019. And whilst we haven't been able to bring the festival back this year, we felt the "would have been Sunfest week" was as good a time as any to bring 2022's charity beer out into the world! So the beer will be available from 4th July and is to be released in cask only – please give our friendly sales team a call on 0114 2812712 if you'd like some for your bar. We're donating 10p from every pint sold to Roundabout, so you'll be doing good just by drinking it!
A little more information on our charity partners – Roundabout are a local youth housing charity who provide shelter, support and life skills to young people (aged between 16-25) who are homeless or at risk of homelessness. We've been very fortunate to meet a number of their wonderful team, some of whom even joined in on the brewday! As well as the beer, do keep your eyes peeled as we'll be supporting Roundabout with other fundraising activities later in the year too. For further information about the charity, please head to their website – and you can also donate to their work here.
Cheers!