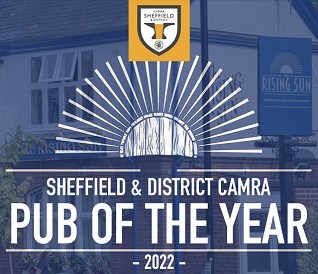 We're absolutely delighted to share the news that our wonderful community pub, The Rising Sun, has been awarded the 2022 Pub of the Year award by Sheffield & District CAMRA!
The criteria for judging the award covers a whole range of things – of course, the beer is very important, but it also takes into consideration the wider experience offered by the pub, including the knowledge and enthusiam of the staff, and the service, friendly atmosphere, and community focus they provide. With the people coming into it just as much as what goes in our customer's glasses, it truly is a real honour and testament to the hard work of the team that this award has been won, especially after what has been an incredibly challenging few years for our industry.
This is the first time the Rising Sun has won this accolade, joining a prestigious list of wonderful venues include Shakespeares, The Kelham Island Tavern and our very first customers, the Three Stags Heads.
We hope this award helps to cement the pub's status as a great destination venue for local regulars and visitors to Sheffield alike (and if you are unfamiliar with the area, there's loads of information and suggestions for a beery weekend away on the Rising Sun's website!).
The presentation evening is taking place from 8pm on Tuesday 14th June (Facebook event here) – we do hope you can join landlord Garry and the Rising Sun team to help us celebrate!
The pub now goes forward as the local winner to the regional rounds as a Yorkshire Pub of the Year finalist… wish us luck!
Cheers,
Team Abbeydale