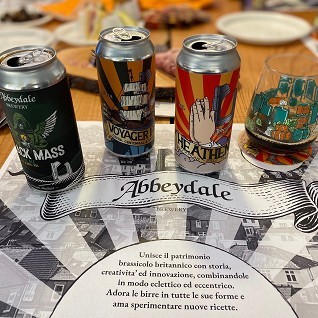 For the last two years, we have been sending pallets of our lovely beer over to the wonderful folks over at Bassan, Bernardo & Figli, in the little town of Thiene (Tee-en-eh), and a few weeks ago I was lucky enough to make the trip over to visit them and strengthen the bond between us. We first encountered the company over 10 years ago when Tommy and Angelo visited the brewery and enquired about us sending them some beer. Back in 2012, we were a 100% cask brewery, and although they do take some cask beer (both Acorn and Ilkley casks were in the warehouse!), it wasn't the right time for us then.
Fast forward to early 2020 (pre lockdown), and Angelo and Tommy came to visit us again. By then, we'd managed to send a few pallets around Europe, with no consistency or real vision… but following a very necessary and thorough tasting of our beers, they left desperate to start importing our beers to Italy in cans and kegs. A few weeks later, the order landed in the inbox, transportation was arranged, and the beers were ready to ship! But then along came a virus…. The morning the first shipment should have departed, Italy was placed into full lockdown (9th March 2020), and all the hard work in preparation for the shipment went up in the air. How long was it going to be delayed? Were we next? Would they still want the beer after lockdown? And all the other unanswerable questions were flying around. Thankfully, in June of 2020, they were in a position to receive an order, and away the beer went! Several more orders followed in the second half of the year, and we had learnt to efficiently process the necessary paperwork. And then along came Brexit…. From January 2021, the rules changed, and the fairly straightforward process of making the declarations was gone, meaning that any export to Europe had to go through the same channels as the rest of the world, plus a whole host of other red-tape hoops that were unnecessary when we were part of the EU.
Not much happened with anything either here or in Italy in those first few months of last year, so it was near the end of May before our next shipment made its way to Thiene, with a far greater focus on cans than kegs at this time. Further orders were shipped, but we were now getting snagged by long queues at Dover, and/or delays with Italian customs clearance. A journey that was taking 4-5 days was now taking up to 3 weeks. The majority of beer styles taste best when drank fresh, especially the hoppy pale ales we are well known for, so this extra time delay was concerning, as we couldn't guarantee storage conditions. Unfortunately this did lead to some beer spoilage, but with over 1000 mile and a language barrier, identifying the exact cause was not easy, and it was agreed the easiest way was for me to go and visit! International travel though was not easy to arrange, and Italy still had fairly restrictive measures in place for hospitality.
On to the start of 2022. With the relaxation of COVID restrictions, the prospect of travelling became easier and when our contact Stefano again raised the idea of visiting, the wheels started moving, especially as Italy's hospitality restrictions were ending at the end of March. A date was set for early April, flights were booked and passport was located (thankfully still in date!).
An early morning flight from East Midlands to Treviso was boarded and I was able to appreciate the beauty of the Swiss and Italian Alps in their magnificence from 37000ft and basked in glorious sunshine. I was greeted at the airport by Stefano, and it was a delight to meet him face to face rather than over Zoom. Following a fantastic lunch at BEAT, with Voyager on the bar, we went to visit the offices and warehouse at Bassan, Bernardo & Figli. Here I met more of the team, including catching up with Tommy and Angelo and we had the opportunity to test the Heathen that needed sampling. I was very impressed to find out they employ four permanent cellar technicians that are on call 7 days a week. What excellent dedication to customer service.
Tommy and Angelo became my partners in crime for the rest of the trip, and they wanted to take me to some of their best customers, and our biggest fans! They took me to check in at my hotel in Bassano del Grappa, a delightful historic medieval walled town. Our first stop was further South near Padua to Brenthaus Beer & Food. They had the last remaining keg of Cryo Heathen on the bar, and considering it was nearly 6 months old, the beer was tasting fantastic! Big shout out to Marco for hosting us, he said he got through lockdown by drinking our Moonshine cans! I also got my first taste of cask in Italy here, with Ilkley Olicana on the bar.
Our second stop was a bit further North to Goto Storto, nearer Treviso. This was a lively place with an almost dive bar feel, with an excellent choice of music too. Two Abbeydale kegs on the bar here, with Fremantle Aussie Pale and Hopback Vic Secret both on top form. Some delicious pizza plus some tasty Italian craft beer from Birra Brùton. Big thanks go to Mattia for his kindness and the T-shirts.
Lastly, we made last orders (and a lock-in, shhhhh!) at Black Lotus in San Martino di Lupari, just South of Bassano del Grappa. This was set up much more like a traditional British pub, and were spoiled with a choice of three Abbeydale beers on tap! Hopback Vic Secret, Salvation Irish Stout and Sheffield Rocks all pouring. Marco and his team were again wonderfully generous hosts, especially when cracking open the whisky! A few of the staff from Goto Storto also arrived for the late drinking including Andrea, the very smiley bar man! After nearly 24 hours on the go, I finally crashed back at the hotel around 4am, very tired and rather tipsy!!!
Having unsurprisingly missed breakfast, Tommy found us a little pizzette (a sweet mini pizza really), and then a visit to a traditional grappa distillery, Nardini which is at the entrance of the famous 13th Century Ponte Vecchio wooden bridge in the heart of Bassano del Grappa, for a little Mezzoemezzo (half grappa, half soda with a twist of lemon). A little pick me up to get the fuzziness clearing for the day's work ahead!
Upon returning to Thiene around lunchtime, I met with the entire sales team of the company and proceeded to give what they termed an 'Abbeydale Masterclass' which was an in depth tasting of our beers, which allowed the rest of their staff to learn more about what we do and who we are. I took some very special beers with me including the recent Voyager There & Back Again, and some Hinterland that I'd filled straight from the tank before it had been canned. I might have* sneaked a couple of cans of our Ryes From The Grave, canned in 2019, from our very special stash, but don't tell Dan or Toby!
*and by "might have" read "absolutely did"!
The evening started with a visit to the nearby Cutty Sark, a Scottish themed pub, and the décor was quintessentially traditional pub. Sheffield Rocks was on the bar and going down a storm with the locals. Had a lovely pint of Acorn Old Moor Porter too, albeit from Keykeg, not on cask. As we were leaving, a local musician arrived to start setting up, I've been told to bring my band next time I visit!!!
My last pub stop of the trip was in the heart of Bassano del Grappa (and staggering distance from the hotel!). Samsara had a lovely atmosphere, great service, delicious food and Heathen on tap! Paulo behind the bar was a true gent, and it was lovely to have a more sedate end to our visits. By the time we left around 11pm, it seemed that half of Bassano del Grappa was there, but Angelo did tell me it was half price Thursday!!!
Friday morning gave me the opportunity to explore a little more of the town and even a quick stop in the Grappa museum from the other distillery in town, Poli, which gave fascinating insights into the history of both distillation in general and grappa as a distillate.
Before I knew it, I was being picked up and on the way to the airport to come home. A whirlwind of just over 48 hours, over far too quickly. I thoroughly enjoyed the trip, and Stefano, Tommy, Angelo and the rest of the Bassan, Bernardo & Figli team, plus everyone at the pubs we visited treated me like royalty and I can only say a huge 'Grazie!". My Italian was incredibly limited, and not everyone had a good grasp of English, but that didn't matter. Their passion for beer, and our beer in particular, was evident, and this is what drives good business relationships. We live and breathe beer day in day out, and this is matched by our Italian friends. They are a family owned and run company, so are we. Our beer is in safe hands and we can't wait to continue our adventure along with them.
Saluti!
Robin