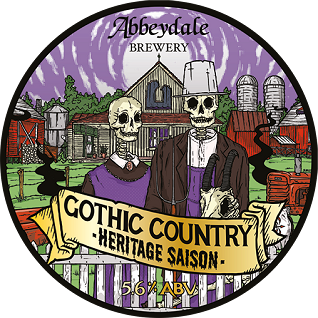 It's time for Chapter 10 to be released from our Funk Dungeon small batch barrel ageing project, and this time we're showcasing a blend of European seasonal brewing and American style dry hopping techniques. Introducing Gothic Country: dry hopped heritage saison!
The base beer is formed of specialty malts from Crisp Malt, using Plumage Archer (a heritage floor malted grain) and toasted malted oats. Both of these grains are new to us in the mixed fermentation side of the brewery so we were really excited to see the outcome of the flavours after extended ageing in barrel.
Plumage Archer is a heritage grain and was the world's first commercially produced crossbred grain in 1905, but had fallen out of trend by the 60s as developments in grain crossbreeding led to others being preferred by brewers and farmers alike. However it didn't do so until it had passed on its genes to some of these newer varieties – it's the grandparent to our house malt, Maris Otter! It's said to work well in hop forward styles, so was a great choice for this release which is the hoppiest yet to come out of the Funk Dungeon. (And if you want to know more about the history of this lovely little grain, Crisp have written all about it here.) The toasted oats are a small batch release again from Crisp, and were chosen for this recipe as they offer a pleasantly deep nuttiness similar to toasted almonds or hazelnuts and in this beer work really nicely with the toasted character of the barrels the beer was aged in.
After mashing and boiling as we normally would a pale ale, we cast through the hop back with Mosaic and chilled through the heat exchange, before barrel fermenting in 8 barrels, keeping a little bit to one side in stainless steel to enable us to top up the barrels after primary fermentation. This avoids making a mess of the brew house with krausening beer during primary and gives us the ability to limit too much oxygen in the head space of the barrel. After brimming the barrels in September last year, we set them to one side to sit with our house brett blend and the residual barrel bacteria. The full blend has been aged in a mixture of neutral American oak casks and some slightly punchier second use Rioja barrels.
Towards the end of fermentation, around 2 weeks before blending into brite tank for canning, we dry hopped with some aged Amarillo T90s pellets. The aroma of these hops was really interesting, still punchy and strong, but with less of the fresh orange characteristic we would expect initially when the hops are fresh, more dried peel and a touch of fresh grass, which works really well alongside the Plumage Archer backbone.
The inspiration for the Gothic Country design should hopefully be recognisable to many. Grant Wood's famous 1930's painting; American Gothic portrays "the kind of people [he] fancied should live in that house". It depicts a farmer standing beside his daughter – often mistakenly assumed to be his wife. The image has been reimagined numerous times over the last century and as Gothic Country was aged in American Oak barrels and is hopped with Amarillo, this archetypal American farmland scene felt appropriate to ape for our Heritage Saison. Our two characters and skele-goat are posing out in front of their expansive property, unaware of the ghosts that also appear in the image – a nod to the literary aesthetic American Gothic that features ghosts and monsters in many of its tales.
The finished beer is 5.6% and has a refreshing clementine like acidity and pithiness, amplified by both the brett fermentation character and the Amarillo dry hop, all balanced with the tannic barrel character. Light and spritzy, relatively low on our "goaty" funk scale but with a pleasant tartness in the flavour and with a crisp finish. It's available now in can and keg, so look out for it on bars and on the shelves of independent retailers (or you can pick some up direct from our online shop) – we would love to hear your thoughts!
Cheers,
Jim