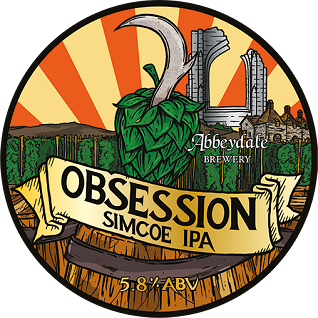 Meet your new Obsession!
We're well known for our hoppy pale ales and IPAs here at Abbeydale Brewery, and are extremely fortunate to have built up good relationships with some magnificent hop suppliers during the 26 years we've been making beer.
Our brewers love playing around with different combinations of hops, but we identified a bit of a gap in our extensive range of beers centring around single hopped beers… And so we've created Obsession! A new series, using the same hops in each of the different formats they're available and adding them throughout the brewing process to really get the most out of them, allowing their character to stand out and discover what makes each of these wonderful varieties unique.
For the first in the series, our brewer Jamie has selected Simcoe – a popular and punchy American hop which works well for both bittering and aroma.
The malt base has been kept straightforward (predominantly our house malt, low colour Maris Otter, with just a little added Vienna malt for sweetness and a shimmer of golden colour) which provides a clean backbone to allow the hops to shine. We used our house yeast too, again for a nice clean flavour, and as is usual for the majority of our Brewers' Emporium beers we have added Brewers Clarex, resulting in a gluten free beer (more info on that here).
Simcoe has been added in leaf, T90 pellets and Cryo form at different stages of the brewing process, to allow this dual purpose hop to truly shine. T90s were added towards the end of the boil for added aroma and a hint of bitterness, with the leaf being the predominant format used at the hop back stage, allowing it to infuse more gently, a little like a massive cup of tea! More polyphenols are extracted when using whole cones, which gives depth and body as well as hop complexity in the finished beer. The Cryo hops were added on day 2 during active fermentation (whilst the beer was still on the yeast) – this allows complex chemical interactions between the hop oils and the yeast, causing biotransformation of the hops and resulting in bold flavour compounds having the opportunity to emerge. A further dry hop with more T90s was added on day 3 of fermentation.
As a new series of beers, our designer James was briefed to come up with something which reflected the inspiration for this series – our love of hops! And the artwork has evolved substantially since its conception. James' original idea, a dagger through a heart, was subsequently deemed a "crap tattoo" style (James' words!!) which it was felt wasn't befitting of our range in 2022! Thus the idea was developed to more closely reflect the craft of hop growing itself, and now features a bill hook (a tool used to cut down the hop bines when harvesting) and an oasthouse (a building designed for kilning/drying the freshly picked hops – on this label, a North American style of oasthouse is shown to go alongside our American Simcoe hops). You can see a bill hook in action in the photograph below – with thanks to Paul at Charles Faram for the permission to use this image.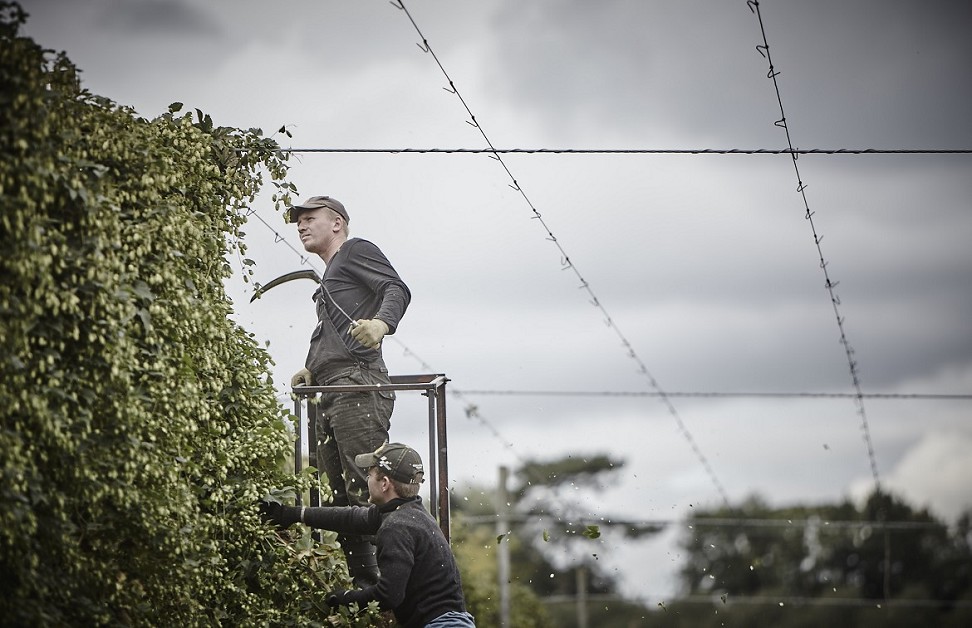 Expect a clean and refreshing IPA with juicy fruit sweetness and zesty grapefruit on the aroma, and flavours encompassing resinous pine, plenty more citrus (particularly reminiscent of clementine), and just a hint of summer berries, followed by a hearty, bitter finish weighing in at 85 IBU and 5.8% ABV. Bold, well balanced, and bittersweet, truly capturing the essence of Simcoe. Available from Friday 15th April in keg and 440ml can (including via our online shop) while stocks last!
Cheers!