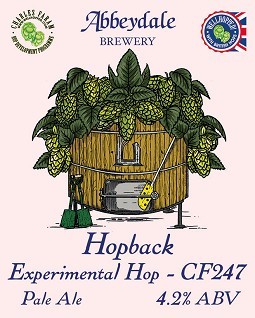 Introducing the newest release from our hop forward, cask led, pale ale series: Hopback CF247!
An experimental British hop from our wonderful suppliers Charles Faram, CF247 comes from the same family as Jester®, Olicana® and Harlequin®. It's a sticky, oily hop with low bitterness, coming in at 7-8% alpha and promising notes of tropical fruits, red berries and a bit of dank! This is a hugely exciting time in the world of British hops as the scope of flavour and aroma continues to expand harvest after harvest. There's absolutely loads to develop and discover and we feel very honoured to be joining in on the journey.
We were lucky enough to host a collaboration brewday with the incredibly lovely Beth from Charles Faram – our first "home" collaboration in over two years! After the all important first mashing in of the day (Yorkshire Tea for us, Earl Grey for Beth), we were ready to go.
It's a single malt beer as well as being single hopped – the only grain we've used is our house malt, low colour Maris Otter, which gives a good clean pale ale base allowing the character of the hop to be the superstar in the glass.
Using a hop for the first time takes the brewer on a journey, learning about their nature and with different elements of their flavour profile coming out at each new stage of the brewing process. As we prepared the hops ready to be added into our hopback we gave them a good rub to see what characteristics we could pick out. We found an absolute cornucopia of fruit on the nose, with wafts of juicy pineapple sitting alongside homely and comforting raspberry jam. Once in the hopback and infusing into the hot wort, spicier elements came through alongside that jamminess, with a fresh wave of citrus fruit – almost reminiscent of lime pickle! And in the finished beer, there's a grassiness in the aroma and a real lip smacking flavour, with greengage sweetness and berry fruits (we're really pleased that those lovely jammy notes have made it all the way through to the final beer). This is all rounded off by a zesty freshness and a gentle bitterness in the finish, at a sessionable 4.2% ABV.
Watch out for it popping up on a bar near you.
Cheers!