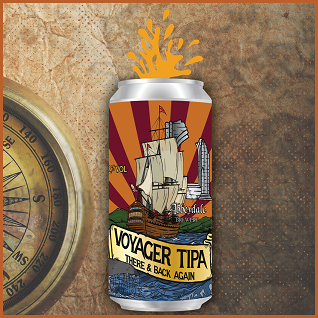 Introducing Voyager – There & Back Again, our first ever TRIPLE IPA! Weighing in at 11.2%, making it the biggest beer we've put on full release to date, and available right now!
For our 25th anniversary last year, we released a small series of riffs on our classics, with Cryo Heathen, Fresh Hop Heathen and Double Deception all going down an absolute treat. Revisiting the recipes for our core beers and having the freedom to play around with them a little is something the team really enjoyed, so we're carrying on the theme with this incredibly special release of our flagship IPA.
The brew itself was a logistical challenge as we required a lot of sugar from our grain for the yeast to feast upon to reach such a lofty ABV. A huge 1300kg malt bill (predominantly our house malt, low colour Maris Otter from our suppliers Crisp Maltings, with just a little Caramalt for added sweetness and colour) was just too big for our mash tun to handle, so this meant a double brew day for Christie (and on a Sunday too!). But as ever he was up to the challenge and our wort was soon safely through and ready for some hops!
We've kept the same hop combination as for "regular" Voyager – Citra, Centennial and Mosaic, which were all added to our hopback as well as being used as dry hops – Citra and Mosaic in T90 form, and some Centennial Cryo to really boost all those amazing citrussy flavours. The Centennial Cryo was added midway through fermentation to provide a bit more hop interest and a little bit of juice – the flavour at 11.2% is boooooozy, so that extra fruitiness helps to round out the flavour of the beer.
Rather than our house yeast (which is best suited to our usual 4% ish pale ales and the like so would not have had a nice time with this beer at all), we fermented our first ever triple IPA with the old classic US05. This keeps everything nice and clean and when making a beer this strong there aren't many yeasts you can rely on to chew through all the sugar as effectively and reliably as US05 (unless you're going down a funkier route).
Overall, it's the same old beautiful Voyager, but beefed up in pretty much every way possible! The same West Coast bitterness meets East Coast fruitiness that you know and love, but with all those tasty tropical notes singing even more loudly and an added intensity in the finish. And as with "regular" Voyager, we've added Brewer's Clarex as part of the brewing process to mop up the gluten (more on how this works here), so it's a rare treat of a GF TIPA!
The artwork shows our good ship returning from its momentous journey, continuing the "same but different" theme of this very special beer. And yes, the name is indeed a reference to The Hobbit. If we take one more step it'll be the farthest away from home we've ever been…
Cheers!