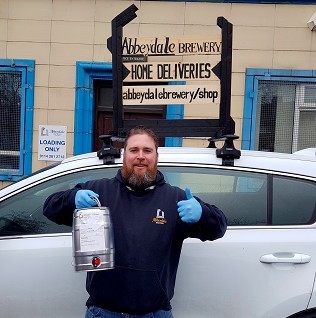 Home deliveries is something we have always offered on our online shop, and we pledge to continue this service into the future, whether you're based just around the corner or in the far flung reaches of the country!
Our free local delivery service was introduced in March in response to the Covid-19 situation. With our pub customers closed and the whole country staying at home, we were able to keep some of our drivers on the road delivering direct to your door (with some help from other members of Team Abbeydale too!), as a free alternative to collecting from us at the brewery.
We are now in a position to offer extended collection times from our lovely pub, the Rising Sun, as of Saturday 4th July when the pub re-opens. As such, this will be replacing home delivery as the free option for our locally based online shop customers. We will have a midnight cut-off for orders, with all orders placed by midnight Sunday-Thursday ready to collect at the pub from 4pm the following day (this will come into effect this weekend, so we'll keep the 1pm Friday deadline this week!). The Rising Sun will be open midday-11pm every day, so this makes it nice and easy to pop by to collect your beers at your leisure.
Free local* delivery will continue to be an option on our online shop until Friday 3rd July, when we will then be implementing charges in line with our courier service (which we subsidise to ensure it's kept affordable for our customers). This gives us the greatest degree of flexibility, so if our Team Abbeydale driving squad are having a particularly busy day, our courier partners APC will be able to step in and get your beer to you in a timely manner. We know that not all of you will be ready to venture out just yet and we're committed to ensuring we can keep offering you a great service. Prices start at just £4.99 for up to two cases (or equivalent weight). Our premium same day service for the postcodes closest to us at the brewery**, guaranteed to be delivered by us direct, will continue too.
We have kept the free delivery option available for as long as possible. However, we have found that as more people return to work, home delivery has become less convenient for many of you, and our drivers are becoming increasingly busy stocking up our pub customers as they prepare to re-open. So having taken feedback on board we believe this is the most accessible, and safe, solution for all. We are not re-instating collections from our brewery site at this time.
We will of course continue to remain adaptable as circumstances change in the "new normal" we're all living with, and welcome all feedback and suggestions, so please get in touch if you have any comments. We're definitely still learning and are always keen to get better and make sure our service improves!
We would like to take this opportunity to say a huge thank you to everyone who has supported us over the past few months. We've been able to deliver literally thousands of minikegs alongside our canned range, which continues to grow – we have some really exciting beers coming up in can! We genuinely couldn't have got through all of this without you, and we hope you will continue to stay with us and enjoy our beers as we all get ride out this storm together.
*Includes postcodes S1-14, S17, S19, S20, S30, S35
*Same day delivery covers postcodes S1-3, S6-11, S17