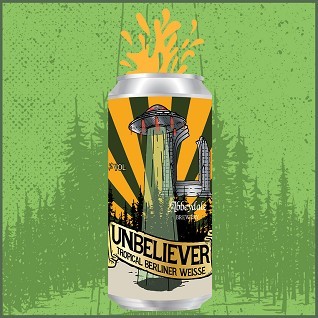 As well as being a bunch of people that love a beer, we're also a group of foodies here at Abbeydale Brewery who love experimenting in the kitchen. Beer can be as versatile as wine when paired with food and can even be added as an ingredient in many dishes too!
Here we've taken inspiration from our light and summery Unbeliever – Tropical Berliner Weisse (3.8%), which is made using mango and passionfruit purees, and created a simple seafood salad recipe that's a perfect light meal for 2 to eat al fresco under a blue sky… or in the gloomy indoors on a rainy day if you feel the need to bring some sunshine to your plate!
Ingredients:
For the salad:
1 dressed crab // 120g crab meat
2 spring onions, or a small handful of chives
1 ripe mango
A good chunk of cucumber
8 cherry tomatoes
A handful of salad leaves
A small bunch of fresh coriander
½ fresh chilli
Rice noodles
For the dressing:
A generous splash of Unbeliever – Tropical Berliner Weisse
A glug of oil
Grated zest and juice of half a lemon (or lime)
1 tsp fish sauce
1 tsp palm sugar (or caster sugar)
A pinch of salt
Method:
Start by cooking your rice noodles, then drain and chill.
Whilst they're cooling in the fridge, prepare your salad. Pop the crab to one side for now, chop all your other ingredients excluding your salad leaves (we recommend chopping the coriander and chilli quite finely – save a few coriander leaves to garnish, if you like) and combine in a bowl.
Then, whisk together all of the dressing ingredients. Pour most of the mixture over the salad and stir in, saving a little to finish.
Arrange your salad leaves (we like something crisp, like little gem lettuce, here – but you can use whatever you like or have to hand) in a dish and pop your noodles in the middle. Top with the salad, and finally add the crab atop. Drizzle over the last of the dressing.
As an alternative presentation, you could go for something like a romaine lettuce, combine your noodles, crab and salad all together, and use the leaves as a cute little dish – this would make it great as a sharing starter as part of a bigger meal.
Serve alongside a glass of chilled Unbeliever (which you can purchase along with a range of our other beers on our online shop!). Delicious.