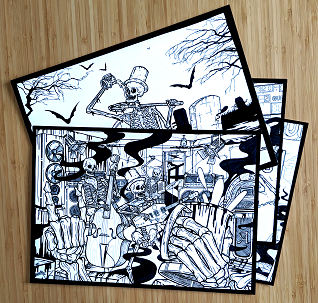 We've got a couple of new beers emerging from our mixed fermentation Funk Dungeon project over the coming weeks, so thought it was a good opportunity to tell you all more about the progression of the design for this series. The aim of the artwork is to expand on the little skeleton character found on our original Funk Dungeon branding, created by our in-house designer James Murphy.
This development began last year, and we wanted to imagine a world where our character 'rises' from his grave (Chapter 1 – Ryes From The Grave) and goes about having a great posthumous 'life' throughout the rest of the series.
Here's where the series has taken us so far!
Chapter 2 saw our skellie friend and compatriots surprisingly take to the basketball court for our collaboration with award-winning beer and food writer Melissa Cole, 'Slam Dunk Da Funk', and at that stage, there was no knowing what they should choose to do next…
In Chapter 3 – 'Heavy Nettle' for our collaboration with Sheffield institution Church: Temple of Fun, we saw that they had got together as cafe-racer motorcyclists at some gas station – probably up to no good!! Chapter 3's offering was accompanied by a special sister release of a Kveik New England IPA, 'Hop Cult Armageddon'. Whilst not officially a Funk Dungeon release, we looked to bring the characters 'to life' for the first and possibly only time! To honour the important Norwegian yeast addition, our characters donned brutal facepaint in homage to some of their favourite Scandinavian Black metal bands. We all have one!
Chapter 4 is due to be released very soon, and is a sour, bretted, barrel aged lager called 'Funk In Drublic', which sees our familiar friends back together as a 3-piece rock & roll band. Playing out hit after hit in a dingy, wreck of a club, our lead singer / guitarist is joined by a bad-ass, up-right bass player and a heavy-hitting stand-up drummer. We'd like to imagine this place would be raucous and rowdy and a Bretted Sour Lager would be the perfect beer to sink down at the front of this gig!
Chapter 5 is safely resting in barrel, patiently waiting for release – what on earth will our characters get up to next?!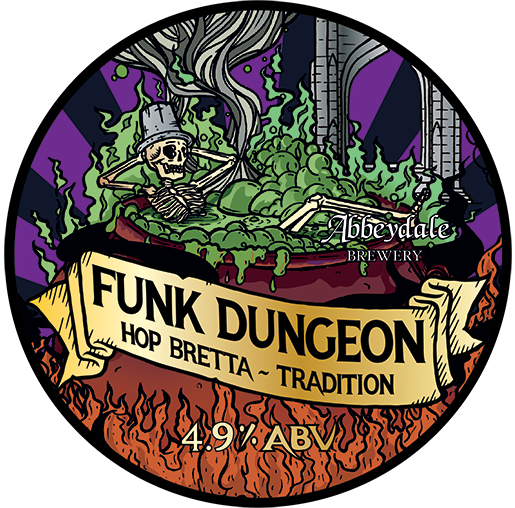 Along with the bretted lager, we also have another release from our mixed fermentation project which is available right now! 'Hop Bretta – Tradition' sees the development of the original Funk Dungeon branding to bring it more in line with this progressive series… as the ever-growing range has evolved with the development of ideas by James and our Funk Dungeon lead brewer Jim and team, the original Brewer's Emporium design felt a little out of place. The continuing stream of beers being released in 2020 is a perfect excuse to match up our original design and the future of the Funk Dungeon range. Our skeleton friend is still bathing in their frothing cauldron but they're looking so much fresher!
As with all of James' work, each concept is sketched out a number of times with pencil on newsprint to develop the perspective and depth. Once James is happy with the idea and layout, the design is hand-inked on heavyweight cartridge paper using Staedtler pigment liners.
The inked illustration is scanned in at high resolution (600 dots per inch) then coloured using Adobe Photoshop and a drawing tablet. This final coloured image (including layers of transparency if required) will now be transferred to the master can label template in Adobe Illustrator to finalise the specific beer information and details, ready for proofing.
The Funk Dungeon cans have seen our in-house designer James further develop a method of design which allows the shimmer of our aluminium cans to add emphasis to certain aspects of the image. This was initially brought to the Brewery by guest designer Lewis Ryan (Lewy) for our Sow the Seeds/Reap the Harvest duo, which allowed the drinker to overlay the two designs to complete the seasonal transition. This has been used to great effect on the Funk Dungeon range, with the metallic elements of the design glistening when reflecting light. There are also a few little "Easter egg" style inclusions that will appear across the series – see what you can spot when you give the can design a closer look!
Mind Your Head…