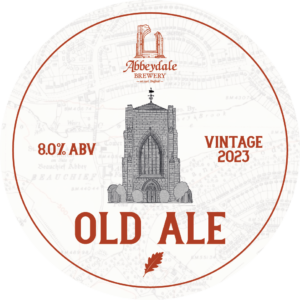 Ale as old as time…
Here at Abbeydale Brewery, we've never really followed trends, bought into "hype" or gone along with what's popular, preferring instead to quietly steer our own course and, quite simply, to brew the types of beer we want to drink. So, rather than a thick, chewy, triple chocolate vanilla ice cream bourbon biscuit pastry IPA, whilst the craft beer world clamours for the freshest, most progressive and boundary pushing beers, we've produced… an old ale.
Old ale is a style that's been in existence since hops started being added into beer. Like Abbeydale Brewery, it's never gone out of fashion – largely because it was never really in fashion in the first place.
The history of old ale begins around 400 years ago. Hops had just been introduced into the brewing lexicon of England – they'd been used in continental Europe since around the 9th century, but prior to the 1600's as a country we were happy with using yarrow, heather, mugwort and other such adjuncts. Hops however, had several advantages – they were cheaper, grew relatively easily, and rendered beer much more stable. The extended shelf life which hops gave to beer meant that beer could be stored for long periods and aged, meaning that flavours would be allowed to develop over time, mellowing and melding to create something unique.
The beer would be brewed to a high gravity to achieve a high alcohol content, and stored in large casks or vats, emerging from these vessels as "stock", "stale" or "old" – flat and entirely lacking in carbonation. This would then be blended with "mild" or fresh beer before being served – the intense, oaky flavour of the old ale being rounded and enlivened by the addition of the more recently brewed, unaged beer.
The 2023 Vintage of our Old Ale has taken inspiration from this history, and has been brewed to 8.0% ABV, lightly oaked and aged for four months to mellow into a clean, silky smooth and sensuous beer. A gently rounded hop bitterness gives way to a complex malt bill that will allow flavours to develop through cellar ageing for years to come. At the time of bottling, creamy vanillin flavours and notes of chestnuts are evident, alongside a subtle oaky spiciness which lingers in the finish with a gentle warmth. The perfect drink to sip beside a fireside on a cold winter night, or to act as a delectable accompaniment to a richly flavoured dish such as roast beef or lamb (dare we go so far to suggest it as the ideal pairing for your Christmas dinner?!)
The artwork, created by our designer James Murphy, pays homage to our history, featuring an illustration of Beauchief Abbey, the old ruins of which inspired our brewery logo. The map in the background shows the location of the brewery, and dates from the early 20th century. And under the vintage you will see a leaf from one of the trees that can be found in the ancient woodland of Ladies' Spring and Park Bank woods which surround the abbey grounds – for 2023, a Sessile Oak leaf has been selected.
The release is limited to 750ml bottles designed for savouring and sharing, with a tiny number of kegs and casks available to trade (pre-orders now being taken!) – one pin is already destined to grace the bar at our very own pub, the Rising Sun. The remainder of the batch will continue to quietly rest, ready to be blended back and form part of next year's vintage. This is an exciting next step into our ageing programme, which we hope will sit beautifully alongside our more regularly available beers in years to come.
The beer is available now, including individual bottles from our online shop. We can't wait to see how this beer develops over time, and we hope you will join us on this journey.
Cheers,
Team Abbeydale