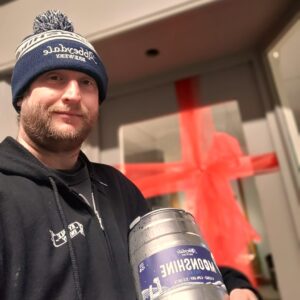 For the next in our blog series where we get to know Team Abbeydale a little better, we're shining the spotlight on Edd, our Online Sales Manager! It's his busiest time of the year right now getting all your Advent Calendars and Christmas beers ready, so we thought it'd be nice for you to learn a bit more about the gift guru behind the boxes (sorry, Santa, we reckon Edd wins this round).
First up, the basics! What's your name and where do you come from?
Hello! My name's Edd, and I'm originally from Kendal, in Cumbria, though I've lived in Sheffield for 14 years now!
What is your role at Abbeydale Brewery?
That's not as simple a question to answer as you might think… ostensibly I run the online shop, but I'm also part of the marketing team, I'm occasionally needed to go out and do deliveries, and I'm part of the sales team so get to hit the road meeting our customers. I also order our merchandise and other bits and bobs for the business. (Editor: so this means he's the mastermind behind the Moonshine mugs – click here to get yours!)
What's your favourite beer and why?
My favourite beer style is easier than favourite beer, it's a proper, hop forward, West Coast IPA. Around 7%, golden in colour with a clean yeast profile and packed with the classic US hops which first made me fall in love with beer. If I had to put a name to it, it'd probably be Sierra Nevada Torpedo
What's your favourite thing about working at Abbeydale Brewery?
I'm being paid to talk to people about beer for a living, and, please don't tell anyone, but I would probably be doing that for free otherwise anyway.
Best place to enjoy a pint?
I worked in pubs for years, and the best pint you can ever have is the one you have at the end of a really busy night with the people you work with, after getting all the customers out!
Where did you have your first (legal!) pint?
The Masons Arms, Kendal. It was a grotty back street boozer at the time, but my friends and I adopted it as our local, mainly because the jukebox had a decent selection and the pool table was cheap.
Fries: Bacon or Scampi?
Scampi, obviously, though my dogs Digby (previous winner of the Sunfest Dog Show) and Kipper tend to prefer bacon, so I have to go for both (Ah, the old surf and turf! – Editor's note)
When you're not chatting about beer, what do you get up to?
I love to cook, and I'm in the process of building a wood fired pizza oven from scratch in my back garden. I'm going to need to eat an awful lot of pizza to make it a worthwhile investment, but that's a cross I'm willing to bear.
And finally… If you were a cartoon character, who would it be?
I think in everyone's heart of hearts they'd love to say Bugs Bunny, but I do worry I'm more Goofy!