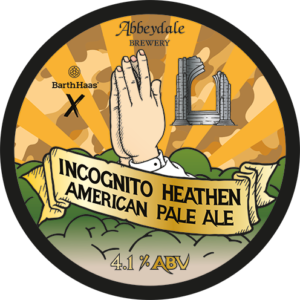 The latest variation of our Heathen American Pale Ale is a showcase of new innovations which are making waves in the beer world – introducing Incognito Heathen!
As with "regular" Heathen, this version is also single hopped with Mosaic and comes in at 4.1% ABV, to ensure it's the flavour profile you know and love, but with hops added in Incognito® and Spectrum form – cutting edge products which bring maximum flavour impact in an efficient and more environmentally friendly way.
Expect big citrus notes, a punchy tropical character with a mango-forward flavour, and a clean, zesty finish with a slightly softer bitterness and a gentler IBU. The family resemblance is still of course incredibly clear, but our Incognito Heathen is just that little bit more laid back and luscious than its crisp and crushable cousin!
We were joined on the brewday by our good friend (and former member of Team Abbeydale!) Dave Kerr, now at Barth Haas, who supplied the Incognito® and Spectrum Mosaic for our brew and talked us through how to make the most of them.
Both Incognito® and Spectrum are 100% natural hop material which come in liquid form and can be used in place of the thirsty little pellets we would typically use instead. This means we were able to reduce our losses and could achieve a greater yield compared to our usual brewing processes.
The Incognito® Mosaic was added first, at the whirlpool stage of the process – it comes in liquid form, so we could pour it straight in! Each litre of Incognito roughly equates to 6kg of T90 pellets. Spectrum is used at the dry-hop stage, and is a fully dispersible liquid which helps to achieve a further increase in yields, and a reduction in tank turnover times, which again is very handy when our vessels are at a premium.
Brewhouse efficiency is something we've been focusing on recently – we don't have room for any more tanks in the space we have available, so getting the most out of the kit we already have is ever-more important! Alongside this, we're always looking for ways to improve our environmental impact and sustainability. The compact tubs which contained our Incognito® and Spectrum hops reduced storage and transportation requirements – as well as making cleaning up (every brewer's favourite!) a little easier, and therefore using less water.
Overall, our brew resulted in almost 10% more beer than we'd usually get, and it tastes pretty damn good too! Incognito Heathen is available now in cask, keg and can, including from our online shop – why not get yourself some of each Heathen variation and see if you can taste the difference?!
Cheers,
Team Abbeydale