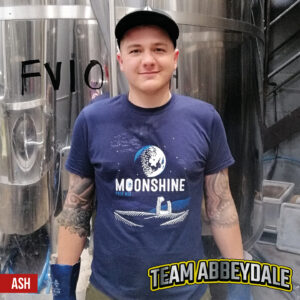 The people of Abbeydale Brewery are what makes us, so we wanted to share a little more about them! Next up we've headed into the brewhouse for a quick chat with our Ash.
First up, what's your name and where do you come from?
I'm Ash, and I'm Tarn born and bred! (Editor's note, that means Barnsley, for the benefit of anyone not from round these parts!)
What is your role at Abbeydale Brewery?
I'm one of the team of brewery operatives, so I'm here, there and everywhere within production! Whether it's in the brewhouse, on the canning line, or filling casks, no two days are ever the same.
What's your favourite beer style and why?
I'm going to have to say IPA – and Voyager is one of my favourites, it's approachable with great flavour and always pairs well with food. I'm also a fan of New Zealand hops, and I'm looking forward to creating some new recipes showcasing these, which are due for release in 2024. So watch this space!
What's your favourite thing about working at Abbeydale Brewery?
I get to be involved in producing great beer! Plus there's always a great atmosphere within the team.
Best place to enjoy a pint?
At home, relaxing in the garden.
Where did you have your first (legal!) pint?
I think it'd be the Old No 7 in Barnsley, which used to be run by Acorn Brewery.
Fries: Bacon or Scampi?
Got to be Scampi Fries!
When you're not busy in the brewhouse, what do you like to get up to in your spare time?
These days it's mainly spending time with my baby son! I'm also a keen homebrewer which is how I made my first steps into the world of beer. My favourite beer which I've made in the past is a Blood Orange Witbier, and yes I will be floating the idea of scaling it up for our brewkit!
Who's your hero (beery or otherwise!)?
My grandad!