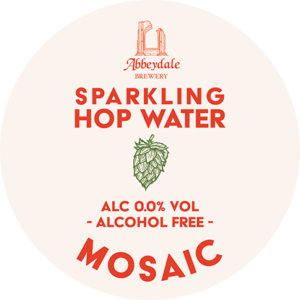 The next iteration of our Sparkling Hop Water is out now, this time featuring another of our favourite hops, Mosaic!
Whilst our Sparkling Hop Water is very much not an alcohol free beer, instead sitting more comfortably in the soft drink category, it is inspired by the ingredients we know and love from our core business. As such, the hops we have selected so far are those which we're incredibly familiar with from the beer making process. The prototype batch, featuring Nelson Sauvin, was an instant hit – this hop features in our Deception New Zealand pale ale, and is renowned for notes of white grape and elderflower, which worked perfectly in our relaxing and spritzy soft drink.
Whilst we're delighted with how batch one came out, it isn't really the Abbeydale way to simply settle for the first thing we've tried – we always prefer to experiment, push the boundaries, explore and continually keep on learning. So, for the second release we've looked to the Brewers Emporium range and our Heathen American Pale Ale for inspiration, and settled on a Mosaic hopped sparkling water this time.
Expect the same refreshing and delicate hit of flavour, but with subtle notes of grapefruit and mango creating a citrussy, tropical effervescence on the palate. We think it pairs sublimely with a spicy Thai salad, but its gentle sparkle also makes it the perfect post-run pint! Best served over ice, with a slice of your favourite fresh citrus fruit, or dried mango if you're feeling fancy!
No booze, no artificial flavourings, no caffeine, and naturally low in sugar and carbohydrates – a true elixir of spritzy, zesty, mindful drinking! Head to our online shop to pick yourself up some cans, or look out for them on the shelves of independent venues!
0% alcohol, 100% refreshing.
What hop would you like to see us try next?!
Cheers,
Team Abbeydale