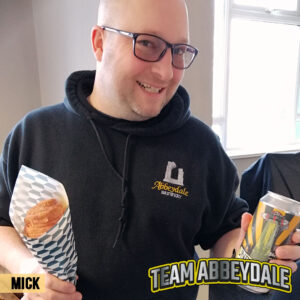 We thought it was about time you got to know the people of Team Abbeydale a little bit better, so we're starting a series of blogs sharing their stories. Kicking things off is the lovely Mick, from our sales team!
First up, the basics! What's your name and where do you come from?
I'm Michael, known to my colleagues and customers as Mick. I live at Loxley, just a hop and a skip into the Peak District and the parish of Ecclesfield, but I'm originally from the top of Fox Hill and spent my youth biking in the woods and playing on the farms making tree swings and dens. Sheffield born and bred!
What is your role at Abbeydale Brewery?
Predominantly sales, but I like to be as helpful as I can be in all aspects of the business. Mainly my day-to-day role involves chatting to our customers, whether over the phone or heading out on the road to say hello in person!
What's your favourite beer and why?
So my previous favourite was a barrel aged sour from Wild Beer called Modus Operandi, but if I'm just after a nice reliable pint I can trust it's got to be Heathen!
What's your favourite thing about working at Abbeydale Brewery?
The camaraderie and the sense of belonging to something more than just a workplace.
Best place to enjoy a pint?
Tricky question! I love a pint at my local, the Wisewood Inn, and they also do a cracking Sunday dinner. But for sheer banter and a good laugh I love the Beekeeper in Hillsborough, and after a day in the sea it has to be the North Riding in Scarborough.
Where did you have your first (legal!) pint?
In the Traveller's at Wadsley Bridge, which is also where I proposed to my wife! The pub itself has now been knocked down, but the fire place from it which is where we met is now in the Millowners down at Kelham Island Museum.
Favourite snack to enjoy alongside a beer?
Cheese and crackers, or a good bratwurst if at an event.
When you're not selling beer, what do you get up to?
I like to be near the sea, lakes or rivers with my surfboard and dog Storm, although my surfboard rarely gets any use these days unfortunately.
And finally… If you were a cartoon character, who would it be?
Speedy Gonzales as I love Mexican food (as long as it's not too spicy) and that sombrero would fit nicely in my hat collection. I'm also partial to a little tequila. One day I'd love to visit Mexico. A fast, quick witted hero – what's not to like?!