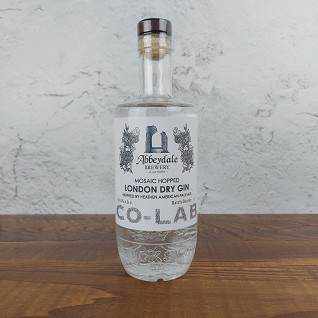 We're very excited to announce that we've teamed up with the wonderful Locksley Distilling Co to make our very own Heathen inspired gin!
Based just down the road from the brewery at the historic Portland Works, we've long been fans of Locksley's flagship Sir Robin of Locksley Gin, and owners John and Cynthia REALLY know their stuff when it comes to flavour – their Raspberry and Cardamom gin and Morocello blood orange liqueurs are sensational, and Cynthia's cocktails are absolutely legendary, so we really couldn't wait to work with them to create a spirit that combines their gin expertise with our beery know-how.
We knew we wanted to make a gin inspired by one of our most well-known beers, so we took samples of Willamette, Mosaic and Nelson Sauvin hops which were made into nano-batches of distillate in Locksley's vacuum still. The hops were cold distilled, which meant we got all of the flavour without isomerising the hops, so that the bitterness doesn't carry through. The effect of this was mind blowing – the three distillates were so distinct from each other and truly captured the essence of the hop. Mosaic was the unanimous favourite (the other two were declared "too weird"!), which meant we were going to be making this a Heathen inspired gin!
Our chosen hop distillate was added to Locksley's classic London Dry style base – the botanicals for which are juniper, coriander seed, cassia bark, angelica root and liquorice root. We thought about what flavours Mosaic hops add to beer and what would complement this in a gin – they're renowned for their punchy tropical character, so after rigorous taste testing (such an arduous task!) we settled on papaya and pink grapefruit. This was all meticulously blended and bottled at 40.0% ABV.
Batch 1 absolutely flew out, so we've had batch 2 distilled! It's an exclusive run of just 60 bottles, and it's available now on our online shop (as well as from Locksley's direct). It's also available at our pub, the Rising Sun, so do pop in to try the perfect serve, over ice with tonic, and garnished with a slice of fresh pink grapefruit. And who's going to be the first to try a beery gin cocktail?! We reckon it'd work wonderfully with a good splash of Heathen, topped up with grapefruit soda!
Cheers!