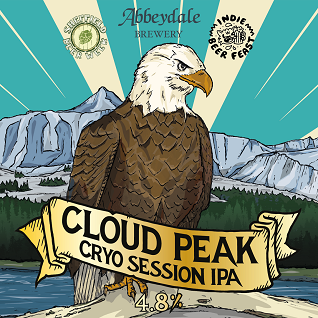 We may have mentioned this a few times already (!) but just in case you missed it, the ninth Sheffield Beer Week is coming up, from Monday 6th – Sunday 12th March. And we've brewed a new beer in collaboration with Sheffield Beer Week & local craft beer festival Indie Beer Feast especially for the occasion.
Cloud Peak is a 4.8% heavily hopped Mountain-style session IPA, (not quite a West Coast, not quite a NEIPA, but merging the two somewhere in the middle). We've used over 17g/l of Citra, Cascade and Mosaic hops, including loads of Cryo! To put that into perspective, that's around the amount we'd use for our big-hitting Deliverance DIPA series, so we've really taken the hopping levels to new heights (see what we did there) for this one. It also allowed us to make full use of our fantastic new whirlpool, which helps us get the very best from those aromatic little lupulin nuggets.
Flavour-wise, expect a hop forward beer that's packed with ripe mango and juicy pineapple character. Soft, smooth and fluffy, with a crisp, bitter finish making it perfectly well-balanced. It's also vegan friendly and gluten free.
The beer launches officially at Indie Beer Feast on Friday 3rd March (that's THIS FRIDAY!! So head here quickly if you'd like to buy a ticket!), and will be pouring at Hop Hideout too from the same date. The first cask will be available on Monday 6th March at our very own pub the Rising Sun, before heading out more widely across cask, keg and can.
Trade customers can pre-order the beer now by chatting to our fab sales team on 0114 2812712 or dropping an email into [email protected]. And cans should be live on our online shop from Monday next week too!
Cheers!