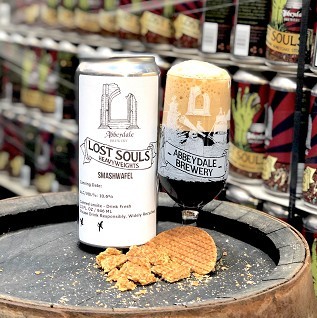 Fresh Can Friday just got a whole new meaning, as this week we launch our new crowlers! After kicking off with our amazing Lost Souls – Smashwafel Imperial Stout this week, we've got another rare beer coming soon for pre-order, so keep your eyes peeled.
Our machine is a Crowler Nation Platinum Pro – an absolutely top of the line machine which we've had imported from Wisconsin, America. We're very proud of it! It's essentially a seamer – a machine that seals a can lid onto a can. The operator rinses the can, floods it with CO2 (to keep air out) then fills with tasty beer, puts a lid on and gives it a whizz through the machine for a perfect seal. Our crowler cans hold 32 US oz (946ml), so we reckon they're perfect for sharing with a friend.
Crowler machines are hugely popular in American taprooms and bars where people can get superfresh beer at the point of dispense and take it away with them to enjoy at home. We've been inspired by so many of our friends across the pond over the years, and whilst we haven't been able to take a trip in a while we're excited to bring a little bit of American bar culture to Sheffield to help us make our beers available in more formats and to more people than ever before.
Check out the current selection of crowlers via our online shop (subject to availability, so do keep an eye on there for what's new!).
While the beer is best enjoyed fresh (we recommend within a couple of weeks from filling), the crowler can lid is airtight so it should keep well for around 6 weeks if cared for properly. Always store your crowler cans somewhere cool (in the fridge is fine) for best results.
Cheers!