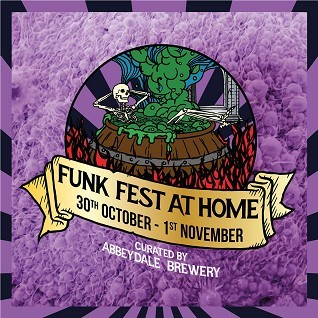 Hi, funky beer friends!
It will come as no surprise to hear that we are sadly not able to hold a Funk Fest event here at the brewery this year. HOWEVER – we don't want to let the momentum that the festival has built up over the past two years completely fade away, so we've come up with a little bit of a plan…
Introducing Funk Fest At Home! Taking place over Halloween weekend (Friday 30th October – Sunday 1st November), we're going to be releasing a selection of extra special beers alongside a small series of online tutored tastings and a virtual brewery tour (so you can see inside the Funk Dungeon itself for the very first time, all from the comfort of your own settee!).
Pre-orders of the boxes launch at 1pm on Monday 5th October and can be purchased exclusively via our online shop. Here's what you will be able to find inside them…
Attendees of Funk Fest 2019 may remember that during the festival we were lucky enough to brew with London Beer Factory and their mobile coolship. We produced one wort during the brew which was then split into three batches to explore different approaches to fermentation – so as well as the spontaneously inoculated coolship version, there's also a bretted variety and one which was pitched with our house saison blend. We're excited to announce that these three same-but-different beers will be released in bottle, exclusively for Funk Fest At Home! We'll be guiding you through the three beers in an online tasting session too.
Alongside this we're also launching our collaboration with the incredible Little Earth Project, "Through The Sticks" – a Rosemary & Lemon Lichtenhainer. This beer will be on full release from early November, with festival "attendees" being amongst the first to taste it.
And finally, we'll have a fully spontaneously fermented Kriek, with 100g/l of sour cherry puree added to a delicious saison-esque base. This one's another festival exclusive, available in hand filled and individually numbered bottles.
But that's not all! Funk Fest has always been more than simply an Abbeydale Brewery showcase. We're really keen to support the wider industry, in keeping with the spirit of the festival and in celebration of the wonderful producers of these styles of beer. And so we're working together with a number of local bottle shops who will be joining us in shouting about some amazing mixed fermentation and wild beers, ciders and even natural wines in the run up to the festival.
And whilst we can't all get together at the moment, we're hopefully planning to support venues to host a mini "Funk Fest Fringe" between 28th October and 6th November (obviously keeping a close eye on the ever changing situation), with some small scale events featuring special Funk Dungeon releases or showcasing other mixed ferm producers, so watch this space for more details on that. (And if you're a venue reading this who'd like to be involved, please get in touch!).
We're gutted not to have been able to have a Funk Fest event at the brewery, but we hope that our plans will go some way to bridging the gap in a safe and responsible way, and still allow us to keep up the spirit of support, collaboration and funky celebration that Funk Fest is all about.
Cheers!