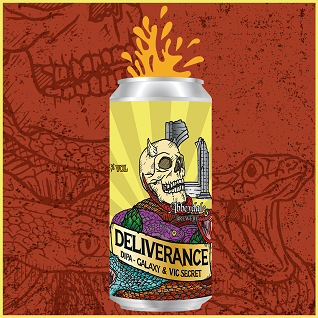 Christie (Brewer) here shedding some light on what's gone into, and how we made the most recent release in our Deliverance DIPA series. Weird day in the beer world today but hopefully by the time this goes live the trade can still buy it and online shop customers can still get their orders in.
Firstly, the premise: so as the name suggests it's an Australian hopped DIPA. Hop-wise we've exclusively used Galaxy and Vic Secret hops, Galaxy's there for the fruit and Vic Secret's there for the sharper citrus 'make this still taste like beer vibe'.
No bittering hops in this one as the late hopback additions of Vic Secret have plenty of potential bitterness so we've still got some bite to the beer.
The dry hop additions were on day 2 (Vic Secret) and day 3 (Galaxy) of fermentation so we've got a little bit of bio transformation from the hops giving you some of that ripe pulpy goodness (and haze).
Yeast wise, for this style of beer Lallemand's London ESB is our go to, we get swift fermentations, it finishes a little sweet and the lag phase (time it takes the start kicking off) is practically non-existant.
With the malt we brewed this one pretty differently to the way we've made oat heavy beers in the past. We always use rolled porridge oats rather than malted oats as we find they are much more effective at giving you the protein heavy porridge vibes that you'd expect from oats. As you can imagine though, the density of porridge isn't particularly workable so the dreaded stuck mash is always a worry. To avoid that this time we made our own oat milk by mashing in the oats on their own at a lower temperature partially breaking down the Beta Glucan which makes it set like glue. We then blasted this on its own into the copper to hold while we dug out the mash tun, mashed in again with all the barley and wheat and then brought to the boil together. We've used oat milk that we have bought for a few beers in the past, but we wanted a much bigger volume for this beer (and also it really hurts your fingers opening hundreds of cartons of oat milk…!)
I wanted to get a slightly more orangey hue from the wort as well, so we gave it an extra long boil to get the colour via the Maillard reaction, without the addition of more biscuity malts.
With lots of lipids from the oat milk, haze from the hops, orangey colour and soft carbonation, the aesthetic intention is for it to pour and look not dissimilar to mango juice.
So to cut a long story short, we made our own oat milk, then boiled it up with the wort giving us the super protein heavy, sweet and dense base to then inundate with juicy Australian hops. Heavy hitting but not too boozy, please enjoy responsibly.
Christie xx