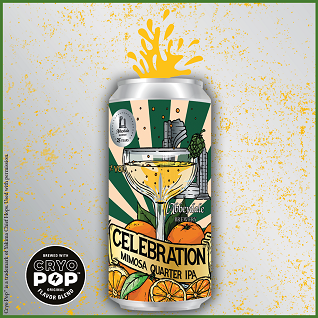 After the return of Brimstone and Last Rites earlier in the year, we've got a whole host of absolutely mega beer releases coming out in honour of our 25th anniversary! The plan is to bring out a beer each week from now until the end of August, covering the entirety of our birthday month.
To get things started and make sure we're all in the party spirit, welcome Celebration! This beer is a ridiculously refreshing 2.8% Mimosa Quarter IPA, brewed with Citra, Amarillo, and an innovative new product from our pals at Yakima Chief Hops – Cryo Pop™! Created with cutting edge technology, this blend contains hop varieties which hold beer-soluble compounds capable of surviving the intense brewing process, meaning they deliver a supercharged punch – or 'pop'! – of aroma, which we thought was just perfect for our beer, inspired by everyone's favourite first cocktail of the day! To boost up that Mimosa character, we've also added a whole 200L tub of orange juice to complement the citrussy notes found in the hops.
This beer actually began life back in 2018, when our Christie rustled up a one-off keg for a beer and brunch pairing event for Sheffield Beer Week at the Rutland Arms. We've taken the same Bucks Fizz based inspiration and scaled it up for this full release – originally paired with mushrooms cooked in prosecco butter on toast (YUM) we reckon this would also be the perfect partner to a BBQ in the sunshine!
Celebration is available now on our online shop as well as heading out to independent retailers and bars around Yorkshire and beyond. We'll be launching pre-orders for mixed cases of all of our special birthday brews very soon, along with tasting sets for an online mini birthday party, so keep your eyes peeled for further details.
Crack open a can and join the party!
Cheers!