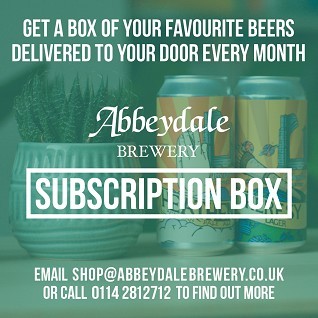 Did you know we've recently launched our very own subscription box? The perfect way to get a monthly delivery of an exciting mix of our brand new specials and familiar favourites, and other treats and little extras too!
We like to keep the exact details of what's going to be in each box a surprise, but if you head below there's a little peek at the first two boxes to give you an idea of the sort of goodies you will receive.
Our subscription boxes are just £29 per month, and this includes delivery as we've extended our free delivery offer to them too. Subscriptions can be amended or cancelled at any time – there's no minimum commitment and we plan to keep the club going indefinitely.
If you're interested in joining our Sub Club, head to our online shop, where you will find it right at the top of our "Beers" page. Once you've completed the transaction on there, which covers your first month's subscription, we'll then be in touch to get you all set up moving forwards… and that's it! A delicious box of beer delivered to your door each and every month, without you having to lift a finger.
We reckon it's a great way to treat yourself, or the gift that just keeps on giving for the Abbeydale Brewery megafan in your life!
Cheers!
We've tried to cover all the basics above, but if you have any questions we've popped our Ts&Cs here. If there's anything else you'd like to know, as always do feel free to get in touch – email [email protected] or give us a call on 0114 2812712.