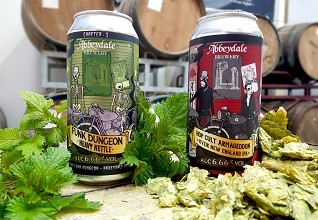 This week we are very excited to announce the launch of Heavy Nettle and Hop Cult Armageddon, two new releases brewed in collaboration with local vegan bar and eatery Church – Temple of Fun.
For anyone who isn't familiar with Church, it's an arcade bar and live music venue established by Bring Me The Horizon frontman Oliver Sykes, located in Kelham Island. Food comes from the kitchen of Make No Bones, who before they set up in Church were just over the road from us in the Heeley area of Sheffield, so we're very familiar with their ethos and tasty food (the avocado wings being a favourite of many of the team here!)
Anyway, onto the beers! Both very different, but both inspired by the spirit of the Church venue, both vegan friendly and both coming in at 6.66% ABV.
First up is the latest release from our much acclaimed Funk Dungeon project – Chapter Three! Heavy Nettle is a spicy saison with the addition of rye malt and brewed with locally foraged nettles (the things we do for our craft!), before being laid to rest for 6 months in third use American oak barrels, which now have a fairly neutral character but give just the amount of wood character we were looking for. Secondary fermented with our house Brett blend for a rounded and funky finish, the name pays homage to one of our Funk Dungeon brewer Jim's favourite BMTH songs (as well as getting a little bit of a pun in there too, obvs). Gentle acidity and earthy undertones bring a unique character to this one and we're really pleased with how it's turned out.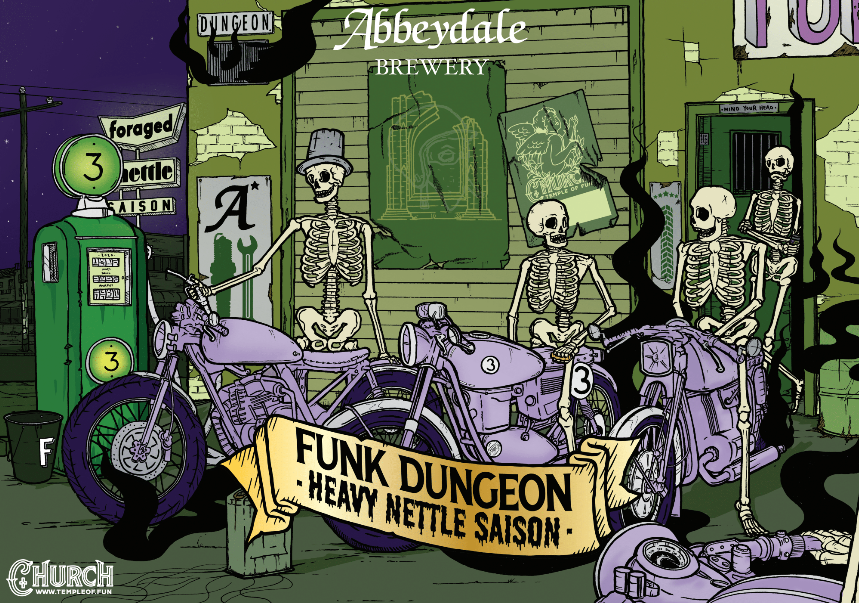 And secondly we've created Hop Cult Armageddon, a New England style IPA brewed with a large quantity of oats and wheat, with heaps of Amarillo, El Dorado and Ekuanot hops added throughout fermentation. Fermented hot with an Ebbegarden strain of Kveik yeast for additional fruity warmth which gives an interesting take on the New England style. Juicy and rounded with a balanced bitterness, and we reckon the perfect accompaniment to a Make No Bones Syko burger! We plan to do some taste tasting later this week, we will be sure to let you know how we get on…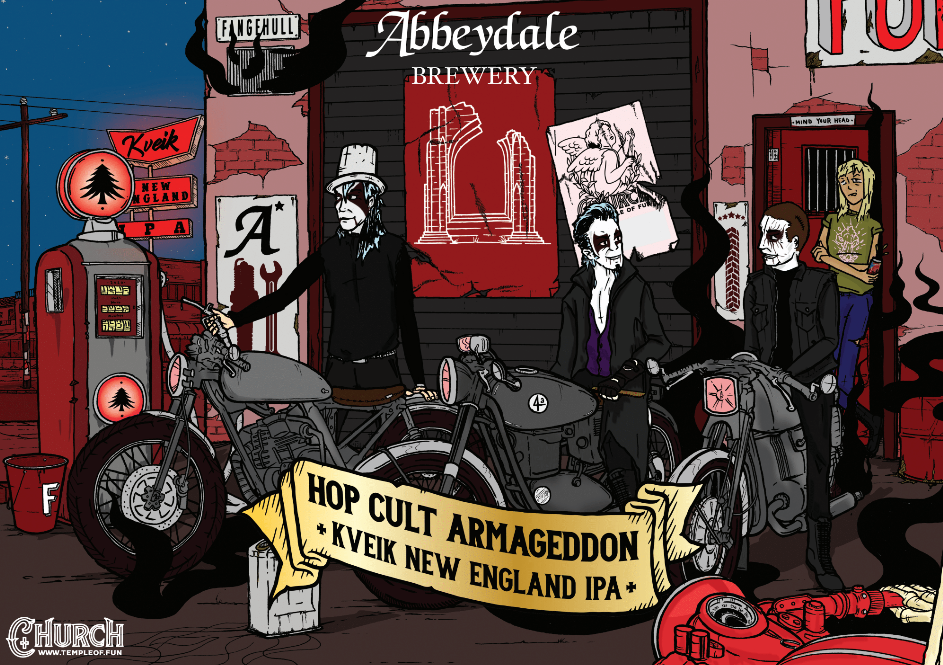 We reckon our artist, James Murphy, has outdone himself with these two designs. The same base image has been used for each piece of artwork, however the original brief was just for the Heavy Nettle can, where James decided to use the given concept of our skeleton friend joining a motorcycle gang and give it a 1950's feel. The idea for making Hop Cult Armageddon a part of this came later, and pretty much trashed the retro idea (sorry James!) but we looked to bring the characters 'to life' for the first and possibly only time! To honour the important Norwegian yeast addition, our characters have donned brutal facepaint in homage to some of their favourite Scandinavian Black Metal bands. We all have one!
Feel free to play "spot the difference" and see if you can work out which little "Easter eggs" have been hidden within the can labels, there are a few in there…
We're planning a launch event and Meet the Brewer session at Church on Thursday 20th March too – pop down for a sample!
Cheers!