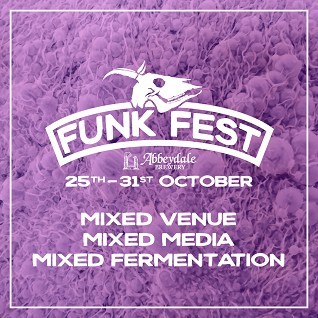 Hi, funky beer fans!
The MegaGoat is BACK… in a slightly different format!
Since the last time we held an event at the brewery back in September 2019, things have changed in so many ways. Amongst these, we've acquired a canning line and extended our online shop operation, both of which take up lots of space in a venue which was not exactly blessed with spaciousness to start with (as those of you who've visited us before will be aware)! With uncertainty still in the air, we just don't have the room to safely and responsibly welcome people inside. All of this means that we're not currently able to hold an event actually within the brewery itself.
HOWEVER! Building on what we've started over the past three years, including 2020's Funk Fest At Home, we've come up with a plan to share the funky beer love and make sure we're offering something that's accessible to everyone, alongside encouraging beer drinkers to support their wonderful local venues who have had a particularly tough time of it over the past year and a half. We're really keen to support the wider industry, in keeping with the spirit of the festival and in celebration of the wonderful producers of these styles of beer.
And so… Presenting Funk Fest 2021: Mixed venue. Mixed media. Mixed fermentation.
Taking place from 25th-31st October, we'll be working together with breweries, pubs, bars and beer shops around Sheffield and beyond, who will all be joining us in shouting about some amazing mixed fermentation and wild beers, ciders and even natural wines. If you're a producer, retailer or venue that would like to be involved, please get in touch with anything you'd like to do to help us spread the mixed ferm word, we'd love to have you on board!
We'll also be hosting an online tasting of a selection of releases from our Funk Dungeon project during the week – watch this space for more details!
Please join us in getting involved with the spirit of support, collaboration and funky celebration that Funk Fest is all about. We're very lucky to have so many outstanding producers of these styles of beer (and more!) surrounding us, and we'd love you to join in the conversation.
Cheers!