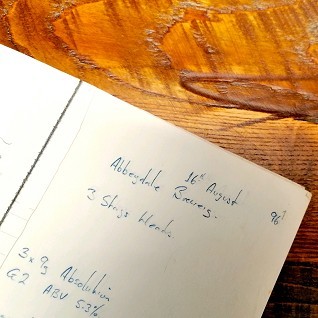 Absolution has been in production for as long as Abbeydale Brewery has existed – when brewery owner Pat Morton set up in 1996, he established three pales (Moonshine, Absolution and Matins) and one dark beer (Black Mass) as the initial core range. And Absolution was the very first to make it to release – actually the second beer brewed here, but sadly the first (Moonshine) ended up going down the drain (more on that here)!
And so it was Absolution, our 5.3% golden ale, that went out on that very first delivery, to the legendary Three Stags Heads at Wardlow Mires, exactly 25 years ago on August 16th, 1996.
It's been a popular beer around the Peak District ever since and can still be found as a permanent fixture on the bar at pubs including the Three Stags and the wonderful Red Lion at Litton today. So much so that when cavers Robbie Shone, Rob Eavis and Katie Dent, regulars of the pub, discovered a new series of caves deep in the heart of the Peak District in 2009, they named one of the chambers after our Absolution!
The Absolution cave is located in a fairly inaccessible part of the Titan system, described as being "extremely well decorated with numerous short stalagmites clustered together and many straws adorning the roof"* and the colour of the rock there reminded the intrepid explorers of our beautiful golden ale. Of course, we threw a party at the Red Lion to celebrate – and launched a limited edition pump clip featuring a photo of the newly discovered cave. We'd love to hear from you if you were there!
Originally single hopped with Goldings, our Absolution is now a little more complex in terms of hops, with a carefully selected combination of six now contributing to the beautifully rounded fruity flavour. It's won multiple awards over the years, medalling in the Champion Beer of Yorkshire premium bitter category six times since 2011, including winning Gold most recently in 2020. Incredibly drinkable and very well balanced, with a good level of sweetness, it's a beer which has truly stood the test of time and one which we're incredibly proud of as we head into our 26th (!!) year.
We hope you'll join us in raising a pint, or a can, to celebrate our Silver Anniversary with us. You can find cans or casks for a party on our online shop, as well as on bars and shelves of independent retailers around Sheffield and beyond – let us know if we can help you find a stockist in your area!
Cheers!
*From "For Fun and Revelations", Rob Eavis, Descent (206), 2009.