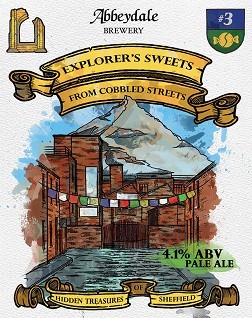 Our Hidden Treasures of Sheffield series continues! This time we've chosen to shine a little spotlight on a real tucked away local gem… the Simpkins Sweets factory.
Located on an innocuous side street in the Hillsborough area of the city, Simpkins have been producing travel sweets for generations, and this year celebrate their centenary!
The company has been owned by Simpkin family since they were founded in 1921. Set up by A. Leslie Simpkin in 1921, the company was originally based in a grocer's shop in Pitsmoor, which Leslie then entrepreneurially swapped for a factory! Bringing the shell of a burnt down old refrigeration company back to life, business grew dramatically overnight, supplying barley sugar style sweets largely within the pharmacy sector rather than being in direct competition with other large confectionery manufacturers. You're probably very familiar with Simpkins sweets without even knowing it! The original "travel sweets", their round gold tins are a household feature globally.
Leslie was joined by his sons Neville, Brian and John over the years, with John Simpkin taking over in 2002. Today John's son and daughter, Adrian and Karen, are joint Managing Directors. Three generations, 100 years, but still using their grandfather's original recipes.
Simpkins now employ over 50 people from the local area, and Adrian tells me that it's not unusual to have generations of the same family working there – they're a very close knit community. The business has survived a world war, a huge recession, and now a pandemic, and Adrian says it's all down to the staff and the wonderful team spirit they share… as well as a good product, of course!
You might have spotted that the pumpclip for the beer features a mountain in the background, and be thinking "I know Sheffield's hilly, but there's nothing THAT big in Hillsborough!" Well, this element of the design is in tribute to Simpkins' Mount Everest connection – they were the official supplier of the first ever ascent in 1953, and allegedly some of their sweets were left at the top! A huge accolade to be chosen for such a momentous journey, although I hear that in true Yorkshireman fashion John wasn't delighted at having to give his stock away to Tensing's team for free!
Just like us, the company is very proudly Sheffield, with the family taking every opportunity to give a shout out to Sheffield steel in top notch restaurants around the world – discovering on a second visit to Chicago that one such venue had updated their cutlery upon their recommendation!
The beer itself is a delicious and delicate 4.1% pale ale, in the classic Abbeydale Brewery style. Notes of red berry and gentle citrus flavours combine with a tasty residual sweetness. It's available in cask only, and is being released this week, so look out for it popping up on a bar near you.
And if you have a hankering for some sweeties after all that, you can pick up some from the Simpkins range here – we heartily recommend the Hangover Drops!