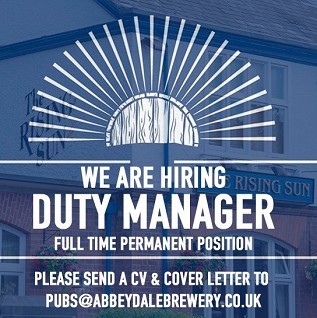 A rare opportunity has arisen to join the management team at our lovely community pub, The Rising Sun, located in the leafy suburb of Nethergreen, Sheffield. Owned by us here at Abbeydale Brewery since 2005, The Rising Sun underwent a refurbishment a few years ago to add additional dining space and has since grown its existing reputation as a destination real ale pub to incorporate a quality food offering and dining experience. We balance both the traditional and modern in the venue and specialise in real ale and keg beer with 26 lines in total. As well as plenty of Abbeydale beers, we look out for the best of guest breweries too. We work closely with local suppliers – so local some of them are our customers!
We are looking for an additional Duty Manager to support the General Manager in the everyday running of the venue.
We're looking for someone who has at least 1 year experience working at no lower than Duty Manager level in a hospitality setting, with food offering, and has experience with the following:
real ale and cellar management
stock systems and management
processing weekly admin
managing & interpreting basic financials
staff training & development
team leadership
managing bar & floor shifts to ensure the quality of the overall customer experience
health & safety procedures
site audits
You will work closely with the existing Duty and General Managers to ensure the smooth running of the business day to day, to provide an enjoyable customer experience. You will need to lead by example and be organised, responsible, trustworthy, a great communicator and be willing to really take ownership of your role and duties. There is the opportunity for career progression for the right person and we are always happy to discuss personal development and training opportunities.
Holding a personal licence would be beneficial.
We offer 28 days holiday per annum plus staff discount, for use at both the venue and the brewery online shop. The role involves working 45 hours per week on a rota basis which covers daytimes, evenings and weekends. Salary will be £23,000.
The pub is easily accessible by public transport, with reasonable opening hours and a parent company (that's us!) that invests heavily in staff training and progression.
Please apply by sending your CV and covering letter to [email protected].