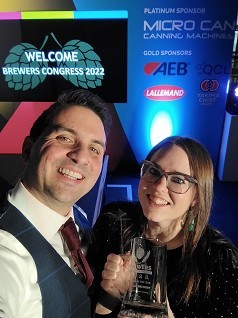 We're celebrating three times over this week, after winning a trilogy of prestigious awards for not just our beers but our branding too!
Firstly, our Laura and James travelled down to London last week for the Brewers Congress – a two day industry conference which includes a glitzy awards ceremony and party! We found out in September that we'd been shortlisted for the Branding of the Year Award, which was an honour in itself, so we were absolutely overjoyed when we were announced as the winners! The award is for the Funk Dungeon range of beers (they're the skeletonny ones, adorning the cans of our mixed fermentation and sour beers, for anyone who's new around here!), with unique, engaging and cleverly complex artwork with bags of personality, all created by our very talented designer James Murphy.
We travelled back to the snowy north, proudly clutching our trophy tankard, to be greeted by an email from the Society of Independent Brewers (SIBA), announcing that we'd won not just one but TWO gold medals in the North East region's bottle and can awards! Daily Bread scooped first place in the Best Bitter category (the second time it's taken this crown, having previously won in 2020 too), and Black Mass came out on top in the Speciality IPA round. We're particularly delighted by the Black Mass award having taken the plunge and strengthened its identity as one of the world's longest standing Black IPAs just a few short months ago (you can read more on that in this blog post here), so it's great to see that decision justified.
Each of these awards is individually something for our team to be really proud of, but together they demonstrate our commitment to and passion for beer in all its many forms, with traditional beers and those that we've been making for our entire 26 year history standing alongside some of our most innovative and creative recent releases, all at the top of their game and gaining recognition at the highest level.
We really are humbled and overwhelmed to see so many different elements of the diverse range of beers we produce being celebrated and enjoyed, and it's amazing to have some good news to share with you all in these uncertain and testing times.
Cheers!
Team Abbeydale